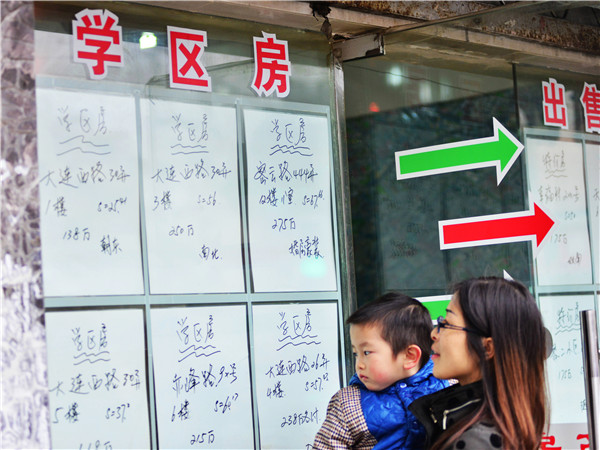 A mother and her son look at advertizements for school area houses in Dalian, Liaoning province.SHEN XUECHEN/CHINA DAILY
Three years ago, I wrote in this newspaper about how Chinese parents would go to great lengths to get their children into popular primary schools.
At that time, one of the biggest controversies about the enrollment exercise, which begins roughly this time every year, centered on the "school-choosing fee" that a coveted school would charge parents who did not live within the attendance zone.
Such a practice had become an important source of finance for top schools to inflate their balance sheets, although no one would admit their places were for sale. As demand far exceeded the positions available at elite schools, the rates of "parental donations" could be as high as half a million yuan.
While some argued that it was an efficient way for those parents desperate to provide good education for their children, others said it's morally wrong for public primary schools to sell their places to taxpayers.
Now the booming business has vaporized after public schools are required to fill spots based on home-school distance. But ironically, capitalism has soared to new heights on the policy shift that has sent housing prices into the stratosphere, and made ambitious parents pay even more.
In my last comment, I cited an 8-square-meter flat in a courtyard house near a prestigious primary school in Beijing that sold for 1.3 million yuan. The records have been constantly rewritten since, hitting 3.4 million yuan for a 10-square-meter flat in 2014 and a 13-square-meter one for 4.8 million yuan early this year.
No buyers would live in the shoe-box flats. All they wanted was the registered address. But many still believe it was money well spent, from an economic point of view.
Besides first-class faculty and facilities, a top primary school usually offers a better chance to students of getting admitted to secondary schools that promise higher acceptance rates by the best university. Parents hope a good education will lead to better-paying jobs, with the benefits eventually outweighing the investment in the long run. Parents balk at "average" schools due to a widening gap between the elite schools and the rest, as the education system traditionally favors key schools.
To secure a seat, parents need to own the property from 8-9 years before they can consider a resale. But parents are more concerned about new education policy changes than the future value of the houses. Some buyers near a top school in eastern China's Nanjing, capital of Jiangsu province, were recently shocked to learn that due to an over-subscription of places, the school might have to introduce a lottery system for homeowners in the district.
I've sent my son to a local school known for rigorous discipline in Beijing. It was formerly a private school that accepted students from across the city if they passed entrance exams. I hope his baby sister will study in the same school in several years' time. But she won't be able to be admitted based on a test score, like her brother, and I get cold feet every time I check on the housing prices that have kept rising around the school.
We all agree that getting our children into good schools does not guarantee them a perfect future, but what does? The Chinese education rat race starts early and students need to triumph in a series of competitive exams to get ahead. A top school is probably the best gift parents can give to their children, when the distribution of good educational resources is geographically skewed.
I'll continue to keep my fingers crossed in a housing market that is spurred by policy, business and parents' anxiety. But my clock is ticking, and it's hard not to follow the flow.
Contact the writer at dr.baiping@hotmail.com