Competition fuels BMW sales towards customer-oriented target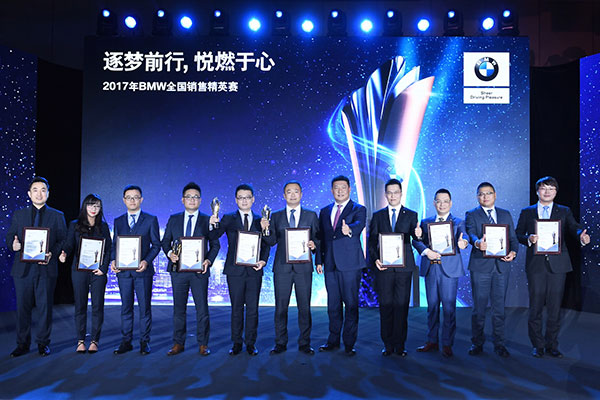 Liu Zhi (fifth right), president of BMW China Automotive Trading, gives awards to winners at BMW National Sales Competition of Excellence 2017. Photo Provided to China Daily
Targeting higher customer satisfaction through improved service, BMW has enlisted more than 8,000 elite sales employees in a comprehensive skills competition, a record amount of participants.
BMW National Sales Competition of Excellence 2017, the fifth of its series, wrapped up on Nov 1 in Shanghai. Local dealers' sales teams covered five core positions, with individual elites competing for five prizes and sales management teams for one top spot.
"We have been utilizing the competition to improve vocational knowledge and skills across the sales network, through recreated scenarios and flexible assessment since 2009," said Laura Wang, vice-president of BMW China Training Academy.
She added, "BMW National Sales Competition of Excellence will enhance the sales teams' customer-oriented service concept and further elevate overall competitiveness, to realize higher customer satisfaction and loyalty to BMW."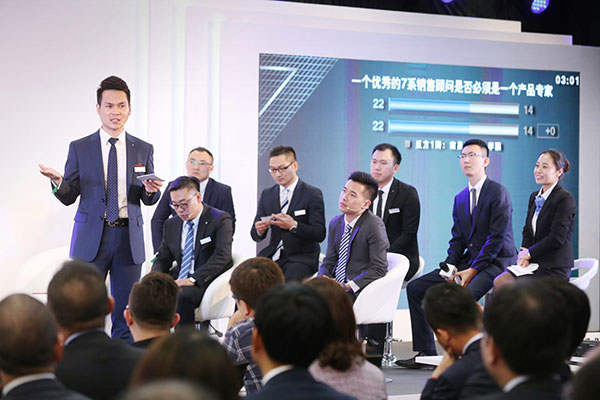 BMW 7 Series sales consultants attend the debate forum. Photo Provided to China Daily
As part of the BMW China Training Academy program, the purpose of the national competition is to help the sales force increase their learning from peers, teach them to challenge themselves, increase their professional standards and raise customer satisfaction, according to the company.
BMW 7 Series sales consultants, used car sales managers, and sales management teams were among the contestants in this year's national competition.
The event was expanded to showcase their talent and encourage them to share their ideas and knowledge with each other.
The BMW 7 Series sales consultant individual champion, Zhao Sicong said: "This is a precious opportunity for me to learn from my colleagues by exchanging views. I feel extraordinarily honored. As a member of BMW's national sales force, I need to be sincere and honest with customers. Beyond selling cars to customers, it is service and professionalism we are providing."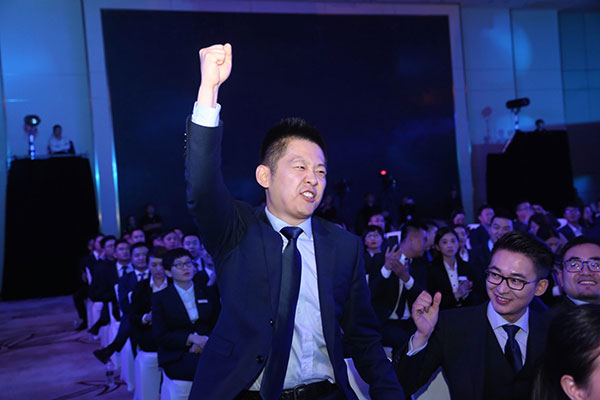 A participant wins the awards during the national competition. Photo Provided to China Daily
The final of the national competition was witnessed by both President of BMW China Automotive Trading Liu Zhi and Senior Vice-President of Sales and Marketing Jochen Goller, who both noted their appreciation of the finalists' performances.
Qualified people in the BMW dealership network are the basis on which to build profitable retail partnerships and become No 1 for customer satisfaction in sales and after-sales, the company said.
BMW has four training centers operating in Beijing, Shanghai, Guangzhou in Guangdong province and Xi'an in Shaanxi province, as well as a further 15 smaller-scale training bases throughout China. The company said it has established its extensive and efficient training network to cover all provinces in China, as it believes that skilled workers are key to the high performance of its retail partners.
As the first premium auto brand to provide such large-scale training to its dealers, BMW Group continues to provide long-term support to its dealer partners and to assist them in overcoming the challenges of fierce competition and economic changes.
Laura Wang, vice-president of BMW China Training Academy. Photo Provided to China Daily
BMW Group has established a principle to share its business development with its dealership partners.
It will consolidate its leadership in the Chinese market through enhancing dealers' profitability, boosting confidence in the brand for an undefeated, competitive position.
Thanks to the BMW Group's efforts and measures, the Chinese market has become a significant growth driver for its worldwide sales.
Local dealers performed particularly strongly in the first nine months, with a record-setting sales volume jump to 436,657 BMW and Mini models, 15.2 percent more than that in the same period last year.