E-car segment revs up to push throttle full forward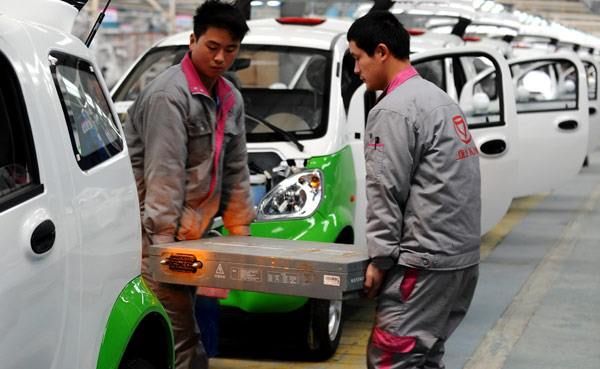 Workers carry an electric car battery at the production line of an e-carmaker in Zhejiang province. [Photo provided to China Daily]
As gasoline vehicles may be phased out, action heats up even on bourses where some shares are up
Potential end to sales of gasoline cars in China could benefit makers of electric cars, and suppliers of spare parts and power management solutions in the long run, analysts said.
In fact, ever since talk started about a gradual shift to e-vehicles, shares in e-car companies fluctuated significantly.
Policymakers have been hinting at a possible timeframe soon for phasing out cars that use gasoline as fuel from the China market.
For instance, Xin Guobin, deputy head of the Ministry of Industry and Information Technology, said at a news conference in early September that authorities are studying a timetable for stopping sales of gasoline cars in China.
At another conference on power and battery development, Xin said that the development of high-efficiency special batteries is key to the development of e-vehicles in China.
Wang Chuanfu, president of BYD, China's largest e-car maker, said in a recent interview that he estimated sales of gasoline cars will likely end in 2030.
According to Wind Information Technology, a market information provider, investors may have traded in shares of e-vehicle makers to the tune of 2 billion yuan ($301.6 million) to 5 billion yuan in the last two weeks of September, in the run-up to the week-long National Holiday.
Shares in e-car market leaders and battery suppliers outperformed other auto industry labels. For instance, shares in Shenzhen-listed BYD, rose almost 44 percent from 48.29 yuan on Sept 1 to 69.51 yuan on Sept 27.
According to a report by China International Capital Corporation Limited or CICC, large-scale production of e-vehicles and a bigger market share in the overall mobility market are inevitable in the next few years.
"Ending sales of gasoline cars is a global trend, and China is not going to fall behind," the report said.
Norway and the Netherlands have announced they will end sales of gasoline cars in 2025. Germany and India will do so in 2030, and the UK and France in 2040.
Sales revenue of e-vehicles in China has been growing fast. Policymakers are setting ambitious goals for further expanding the market share of such vehicles in the entire mobility sector.
In 2016, e-vehicles accounted for some 1.8 percent of all vehicles in China. A plan set by MIIT said their market share shall be increased to 5 percent in 2020 and 20 percent in 2025.
Sales volume of e-vehicles is estimated to climb from 507,000 units in 2016 to 2 million in 2020 and further grow to 5 million in 2025.
Policies will encourage purchase and use of e-vehicles in China. For example, buyers would be offered free car plates in megacities. In contrast, gasoline car owners may need to pay more than 80,000 yuan for a plate at auctions in Shanghai.
Such incentives will likely further help increase market share of e-vehicles, said a bluepaper on the China market by Fitch Ratings.
In the longer term, however, development of e-vehicles in China depends on battery technology improvements and infrastructure like charging networks, said the paper.