Renault conducts self-driving test as it reveals its future mobility vision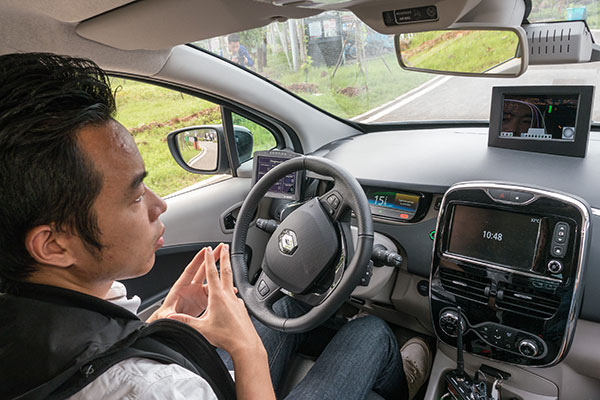 A staff member showcases autonomous driving technologies in Renault Autonomous Driving Experimentation Zone in Wuhan, capital of central Hubei province, on Sept 22, 2017. [Hao Yan/Chinadaily.com.cn]
Renault China conducted its second autonomous driving demonstration to media group in its Renault Autonomous Driving Experimentation Zone in Wuhan, capital of central Hubei province, on Friday.
The fully electric Renault Zoe, with two company's staff members on board, took journalists for test rides in the zone. The ride showed a series of eyes-off and hands-off technologies, including lane keeping, automatic positioning, automatic brake, obstacle and pedestrian detection, automatic steering and position calibration, under assistance of relevant equipment and systems, such as radars, lidars, sensors, cameras, GPS positioning, base stations, real-time maps.
The hatchback model is shipped from France to China to showcase electric power, connected, and autonomous driving, the must-haves in the French auto makers' vision for the future of the auto mobility.
"The vehicle of the future will be electric, connected and autonomous. Renault is already a zero-emission leader. In Europe, one out of four new electric vehicles is made by Renault," said Jacques Foulquier, vice-president of research and development, Dongfeng Renault Automotive Company. "The autonomous driving technology integrates the cutting-edge technology of the automobile industry and has infinite potential of changing the future."
He said, "Two of the three future elements, electric and connected, can now be found in the present products. Both of the Renault Koleos and Kadjar have electric versions and have wireless communication with call center, and the mobile phone connectivity."
The Chinese users can connect to the Renault call center by one-touch on the button on the roof, to find the interest points, locate the places, and then navigate to the destinations.
The group will bring its autonomous driving technology into daily life by 2018, and drivers can use the function even on highways. Furthermore, Renault Nissan and Mitsubishi alliance has a plan to launch more than 40 models capable of different levels of autonomous driving, including eyes-off, hands-off, and minds-off by 2020.
Renault pins great hope on the Chinese market as the local car users have a tradition of having a long drive back to hometown during holidays, and the government agencies are mulling the intelligent connected vehicle development road map, according to Foulquier.
China is expected to have the largest number of autonomous driving vehicles, 8.6 million, by 2035, including 5.2 million partially autonomous and 3.4 million fully autonomous vehicles, according to Boston Consulting Group's research. The US-based consulting firm found 76 percent of Chinese surveyed said they were open to riding in an autonomous driving vehicle, higher than the global average of 58 percent.
On September 25, 2016, Renault Group, Dongfeng Renault and Wuhan Caidian Eco-Development Group declared plans to jointly establish an autonomous driving experimentation zone in Sino-French Wuhan Ecological Demonstration City. This cooperative project aims to promote the implementation of innovation-driven development of China's "13th Five-Year Plan", and devotes to promoting the development of smart city and ecology in Wuhan.
In December 2016, the construction of the Renault autonomous driving experimentation zone was completed in Wuhan, with the first testing and demonstration of autonomous driving. This was China's first autonomous driving experimentation zone open to tourists, and visitors can take part in testing and experiencing the Renault autonomous driving prototype vehicle.
On February 23, 2017, French Prime Minister Bernard Cazeneuve visited Renault autonomous driving demonstration project during his official visit to China. Renault autonomous driving experimentation project is one of the exemplary Sino-French cooperation projects in the ecological and high-tech fields.
Foulquier said that during the past nine months, Renault autonomous driving vehicle has kept experimenting in Wuhan, and its software has been optimized based on the local road condition information.
Renault is committed to introducing progressively autonomous driving vehicles, with the ambition to offer "eyes-off/hands-off" technology on mainstream vehicles at affordable price.
The goal of the technology is to make roads safer, driving experience more enjoyable and provide more personal time to drivers.
For more than 50 years, Renault has worked actively to improve road safety. More than 90 percent of accidents can be traced to human error and Renault's Advanced Drivers Assistance systems aim to reduce the number of accidents by assisting motorists. The progress made by Renault in this field has seen the number of fatal accidents involving its cars come down more than 80 percent over a period of 15 years. Autonomous driving is an extension of this ongoing commitment to continue to extend effort on safety.
By taking over driving during the most tedious phases of journeys, such as when on motorways or in congested traffic, autonomous systems make motoring less stressful and more enjoyable without distracting from the pleasure of driving, while giving drivers the ultimate choice.
Beyond 2020 and in compliance with new road traffic regulations, Renault plans to introduce "eyes-off" technology in its core range vehicles, first in heavy, stop-and-go traffic conditions on highways and soon after in any much broader conditions on highway. Drivers will gradually be able to optimize their time in order to take advantage of in-car connectivity in total safety when conditions permit and in total compliance with legislation.