Renault, Brilliance China Automotive agree new venture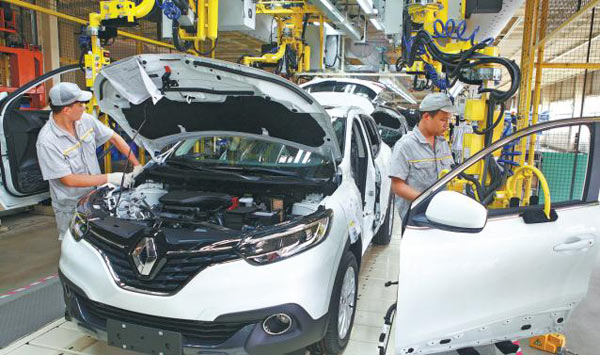 Workers check a car on a production line of Dongfeng Renault in Wuhan, Hubei province. [Photo by Song Rongcheng/For China Daily]
Renault Group entered into a joint venture-costing only 1 yuan (15 cents)-with Brilliance China Automotive Holdings, to focus on the manufacturing and sale of light commercial vehicles in the world's largest auto market.
The two companies announced the binding framework cooperation agreement on Wednesday. It covers two transactions-Hong-Kong-listed Brilliance China will acquire a 100 percent holding in Shenyang Brilliance Jinbei Automobile, then sell 49 percent of the shares to the French automaker.
Both partners will inject a total of 1.5 billion yuan in accordance with the 51:49 ratio in the near future. The joint venture will develop, manufacture and distribute new vehicles and services under the Jinbei and Renault brands.
The 49 percent Shenyang Brilliance Jinbei shares were valued at 1 yuan, according to Brilliance China's announcement.
This will result in a restructured joint venture, with Brilliance China holding the majority 51 percent stake and Renault holding the remainder.
"Renault is entering into a promising and high-potential Chinese LCV market, which accounts for upwards of 3 million vehicles per year," said Carlos Ghosn, chairman and CEO of Renault.
"By joining hands with Brilliance China, Renault aims to become a major LCV player in China.
"We will bring our management expertise and know-how on the products and technology," he continued.
Yale Zhang, managing director of Automotive Foresight (Shanghai), said he expects more than just light commercial vehicles from the two carmakers' establishment of the joint venture.
He said: "Renault could be working on something bigger than merely focusing on the light commercial vehicles, since the market is a much smaller market, with much thinner profits than the passenger car market.
"Besides, the LCVs are powered by diesel engines that won't have large growth potential in the country."
Sources in the auto sector, who declined to be named, said the new joint venture might help Renault consolidate its presence in China with a new production base in Shenyang, capital of northeastern Liaoning province, while Dongfeng Renault Automobile might manufacture SUVs in Wuhan, capital of Central China's Hubei province.
The French automaker's new business would take a market share of 3.5 percent, matching its mid to long-term market share target in the Chinese passenger car market, the sources added.
In 2016, the Chinese market saw 353,600 light passenger vehicles and 1.5 million light trucks sold, while the passenger car market registered 28 million vehicles in sales volume.
The transaction remains subject to customary regulatory approvals in the Chinese mainland and Hong Kong, and is subject to the approval of Brilliance China's shareholders.