Leshi urges LeEco founder Jia to fulfill loan commitment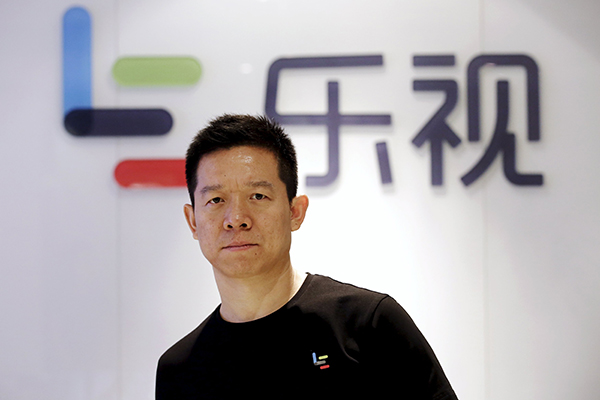 Jia Yueting, founder of LeEco, poses for a photo at LeEco headquarters in Beijing, April 22, 2016. [Photo/Agencies]
Shenzhen-listed Leshi Internet Information and Technology Corp, a video-streaming unit of LeEco, announced late Thursday that it has sent a notice to LeEco founder Jia Yueting, reminding and asking him to fulfill his loan commitment to the company.
In a reply to a letter issued by Shenzhen Stock Exchange, Leshi said when the company was cash-starved in the first half of this year, its controlling shareholder Jia failed to keep his commitment of lending the capital he received by selling his stake in Leshi to the listed company because of the debt issues he himself was facing along with the LeEco's unlisted affiliated companies.
According to Leshi's announcement, between May 29, 2015, to Nov 28, 2015, Jia sold some of his shares in Leshi and made this commitments: he would lend all the money he received by selling his shares to the listed company; once he has received repayments from the listed company, he should use all the money to increase his share in Leshi; when he buys the same number of the share he sells, he should grant the balance of selling and buying shares as a gift to Leshi if the average purchasing price is below the average selling price.
Under the commitments, Jia made two reductions, which totaled a net transfer of 4.72 billion yuan ($717 million). Since 2015, the biggest share of loan he has lent to Leshi after reducing his shares was 4.72 billion yuan, with a cumulative amount of 11.3 billion yuan, Leshi said.
In July, Jia resigned from all his positions at Leshi but still owns around 26.27 percent shares of the listed company as its largest shareholder, thepaper.cn reported.
In view of the assets of Jia been frozen since July and other conditions, there is considerable uncertainty about Jia's ability to fulfill his commitments, the company said.