Fuel station giant drives into car sales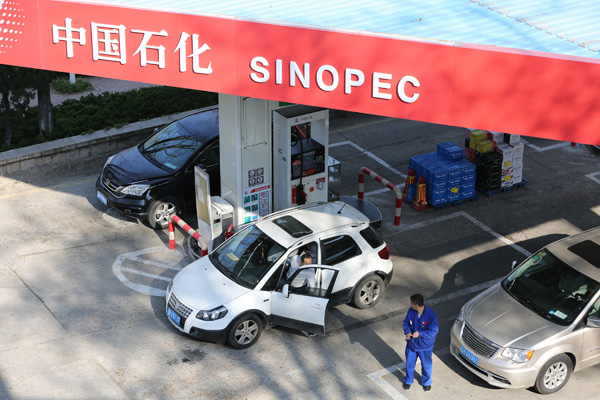 Cars refuel at a Sinopec gas station in Qingdao, Shandong province. PROVIDED TO CHINA DAILY
China Petroleum and Chemical Corp, the world's largest refiner, which is also known as Sinopec Corp, is foraying into auto sales, based on its nationwide fuel station network.
One of Sinopec Corp's fuel stations in Beijing has already sold its first car two weeks ago. It is currently cooperating with automobile e-commerce platforms for launching auto sales. It is also keen to cooperate with more partners, including e-commerce companies, in the future.
The company, which had set up pilot projects to sell cars in Hunan and Hebei provinces last year, said the most prominent feature of its car sales efforts is the unique shopping experience marked by convenience.
Experts believe Sinopec Corp can benefit from its extensive petrol station network, and its involvement in the automobile sector will alter the market pattern at a time when competition is intensifying.
"This is a great opportunity for Sinopec Corp to gain market share as China has got rid of a monopoly-like situation in the vehicle sales segment," said Zhao Ping, director of the international trade research department at the China Council for the Promotion of International Trade.
"Compared with its convenience store business, selling automobiles has more added value."
According to Zhao, Sinopec Corp's car sales foray is part of its efforts to expand its non-oil business and diversify its portfolio, which will in turn improve its operational capacity.
"Selling automobiles and oil will promote the performance of both divisions, and will help Sinopec Corp to enlarge its market," she said.
"It is believed Sinopec Corp will cooperate with more partners, enabling diverse brands to meet demands of various customers."
Sinopec Corp's car sales foray follows a new set of regulations that took effect on July 1, replacing the decades-old policies that a car seller must be authorized by a carmaker. The new regime is expected to spawn more economical sales channels.
A dealer can now choose to be authorized by a carmaker or not, and is allowed to sell multiple brands.
Sinopec Corp said it would consider cooperating with more cultural media corporations and online automotive retailers to further expand its auto sales. Sinopec is not alone in taking advantage of the new policies. Gome Electric Appliances and Suning Holdings are also making a foray into car sales based on their nationwide networks.
However, Zhao warned that it is hard for Sinopec Corp to convert automobile sales into a large-scale business, as it has a fixed number of fuel stations, and lacks relevant experience and talent pool.
Agreed Cui Dongshu, secretary-general of the China Passenger Car Association. In the short term, alternative car sales channels pose no threat to traditional authorized dealers, he said.
Zheng Yiran contributed to the story.