BMW brings Joyful Football programs to left-behind children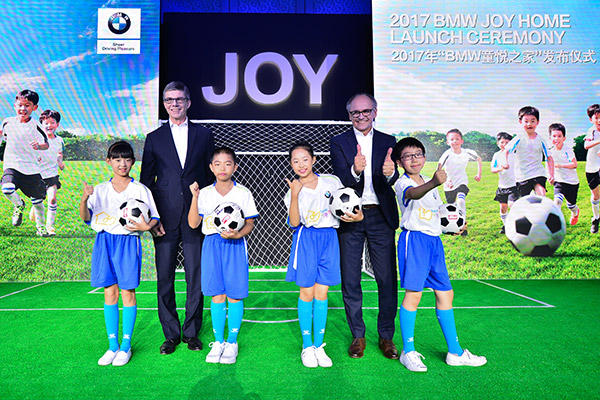 Children, President and CEO of BMW Group Region China Olaf Kastner (left) and President and CEO of BMW Brilliance Automotive Johann Wieland pose for photos at the Joyful Football program launching ceremony in Shenyang, Liaoning province on Friday. [Photo provided to China Daily]
BMW rolled out its latest three-year plan to improve left-behind children's development through Joyful Football activities, steering the premium brand's corporate social responsibility initiatives toward empowering people through better living.
BMW announced Friday that Joyful Football will be applied to BMW Joy Homes with suitable areas for training.
Children at these Joy Homes will be able to participate in a weekly soccer course. The BMW Joy Homes, built in left-behind children schools funded by the China Charity Federation-BMW Warm Heart Fund, also provide stationery and sporting materials to the children.
"Our approach is progressive and constantly modernized, right in line with the Chinese idiom, 'Teach a man to fish and you feed him for a lifetime'," said Olaf Kastner, president and CEO of BMW Group Region China.
"The essence of football lies not only in technical skills and competition, but, more importantly, in developing the kids' personalities," said Johann Wieland, president and CEO of BMW Brilliance Automotive. "Our curriculum will be the first of its kind for the physical education of left-behind children."
Soccer coaching and training for local teachers will also be given by BMW in association with Right to Play, a world-renowned NGO focusing on children's development through sports.
By the end of next year, there will be at least 20 junior football teams in Joy Home schools, for which football tournaments and summer camps will be organized.
BMW Joy Home program chose soccer and play because they are powerful tools to help the children to grow up physically, intellectually, socially, psychologically and emotionally, as well as ethically and morally, according to Right to Play International.
Joyful Football focuses on children's physical and mental health since they see their parents only rarely. As such, the program is different from youth soccer projects for professional players, according to BMW.
BMW Joy Homes
The children in BMW Joy Homes are those from remote areas who were or are not immediately able to follow their parents who sought better job prospects in larger cities.
BMW believes it has a responsibility to contribute to the local communities in which it has been growing and developing in China.
To help these left-behind children receive their deserved compulsory education, the BMW Joy Home Children Care Program was set up 6 years ago, as a part of the Warm Heart Fund initiative. The stakeholders, including dealers and customers, brought books, computers and stationery to schools.
Wieland said, "BMW dealers and customers share their personal wealth, time, skills and love to contribute to a better society for all.
"BMW Brilliance doesn't just strive for sharing, but also for the ability to leverage our resources and expertise to contribute to a future filled with responsibility at BMW Joy."
The brand calls for the public to join in and give more help, as it is the duty of society to provide proper education to the left-behind children regardless of where they grow up.
Like many BMW customers and dealers have done over the years, many people promote the well-being of young children and youth, supporting them in attaining equal development opportunities for a brighter future, according to the company.
Strategic CSR
As soon as the Joy Home program took actions in accordance with the latest three-year plan, BMW upgraded its public welfare projects into strategic CSR initiatives following the German group's Strategy Number One > Next. The company is delighted to take another step on its very long path through enabling each stakeholder and empowering participants and recipients.
Now the company is working on the physical education teaching materials developed for the left-behind children in remote areas, since there is no such specific teaching material in the country. In the near future, the teachers, warmhearted car owners, dealers and other participants will be able to coach the children in a more professional way.
Last year, BMW started changing its CSR strategy in China, making it more strategic than donation-based. Beyond enhancing stakeholder engagement, BMW has shifted its focus from simply donating to enabling.
BMW CSR initiatives focus on three areas: resources, intercultural innovation and social inclusion, and education. The Joy Home is one of the three important pillars of BMW's strategic CSR initiatives in China, which also include the BMW Children Traffic Safety Education and the China Culture Journey.
Related story:
Exclusive platform aids stakeholders' social engagement from China Daily
The latest three-year plan for the BMW Joy Home Children Care Program expects to establish at least 20 junior football teams in Joy Home schools by the end of next year. Football tournaments and summer camps will then be organized for the teams.
As a part of the BMW Warm Heart Fund initiative, the Joy Home Children Care Program began in 2011. BMW has joined hands with its dealers and customers across China to create opportunities for impoverished children in rural areas through the Joy Home program.
Through long-term donations and activities, the program not only sends the necessary equipment for left-behind children, but also aims to provide spiritual care for healthy growth.
By the end of 2016, 50,000 children from 56 Joy Homes had benefited from this initiative in 28 provinces and cities.
BMW customers established the BMW Warm Heart Customer Club to participate in the CSR projects. Since the first club was founded in 2012, a total of 16 clubs have been set up, comprising more than 2,700 members nationwide.
BMW Warm Heart Customer Club has initiated more than 310 public welfare activities across the country and benefited more than 18,000 people.