Volvo promotes golf in China due to synergies with lifestyle brand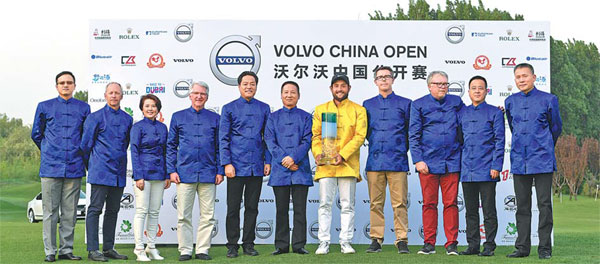 Alexander Levy (center), winner of the 2017 Volvo China Open, Volvo Car Group executives and guests pose for a photo on April 30 at the Topwin Golf & Country Club in Beijing. [Photo Provided to China Daily]
Remaining steadfast as the origin of innovation, the Volvo China Open made its seventh return to Beijing this year, as a manifesto of the premium carmaker's commitment to promoting golf culture in its new home market.
The 2017 Volvo China Open drew to a close in Beijing on April 30, during the 90th anniversary of Volvo's brand promise to "understand people, protect what's important to them, and make them feel special".
With strong support from Volvo, an increasing number of Chinese players are stepping onto the world golfing stage and shining internationally. The Topwin Golf & Country Club has embraced a record high of 41 Chinese players, out of the 156 who contested in the three-day tournament.
"We are proud to witness the game attracting the largest group of local players this year. Chinese players, including Cao Yi and Li Haotong in the leading group, are growing rapidly, and this is a recognition to our golf strategy," said Lars Danielson, senior vice-president of Volvo Car Group, or Volvo Cars.
"Volvo will persist in its golf strategy, after standing firm for 23 years," he said.
The Swedish premium carmaker found that golf matches its brand perfectly, and both are widely accepted among elite groups with a focus on lifestyle and spiritual pursuits, who are low-key, family-centered, caring and responsible.
Danielson noted that the customers appreciate the Scandinavian design and luxury that Volvo provides, and that the Volvo China Open expresses the dignity, elegance and dynamism of the brand, fitting the characteristics of Volvo owners.
"Golf has always been considered a graceful sport and its underlying cultural temperament and dynamism resonate well with Volvo Cars' brand personality of combining powerful functionality and subtle aesthetics," Danielson added.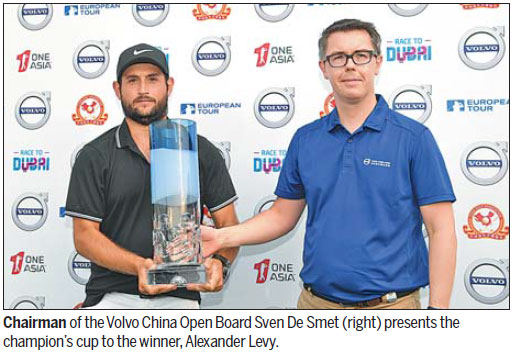 Last year, Volvo Cars announced its golf development strategy that focuses on the Chinese market and integrates golf development.
The Volvo China Open is committed to building an open platform for the sport by opening its doors to the general public, celebrating sportsmanship, and observing the principles of fairness, friendliness and openness, echoing Volvo Cars' core concept of "Designed Around You".
"At Volvo, we want to be open for everyone, we want to be accessible," said Sven De Smet, chairman of the Volvo China Open Board. "We are a human-oriented brand. We are about people and the players appreciate that. It's a great game and it's a great brand.
"We invite potential customers, existing customers, partners and sponsors to the China Open to experience the Volvo brand culture," continued De Smet, who is also vice-president of brand and marketing at Volvo Car Asia Pacific.
Currently, the company is involved with the Volvo China Open and the qualifying stages in the professional golf scene, the Volvo China Junior Match Play Championship in junior golf, and the Volvo World Golf Challenge, a global series of competitions for Volvo car owners.
These events position Volvo strongly to comprehensively promote the development of the sport in China. In the future, Volvo will continue to integrate its global resources in the field to further promote the sport in China.
Through intuitive innovation, consumer insights and world-leading automotive technologies built over 90 years, Volvo Cars delivers sophisticated technological innovation with a warm humanistic touch that brings positivity, health, inwardness and serenity.
De Smet said: "We've had 90 years of Volvo and 30 years of Volvo in golf, with lots of highlights along the way. Those 90 years have seen plenty of innovation on our part and innovation is a key word with our involvement in golf."
Volvo's effort to promote the sport in China has been very fruitful. In 2005, with the approval of the China Golf Association, the Volvo China Open introduced a qualifying mechanism with reference to international golf opens such as the British Open and the US Open.
In the 12 years since, the Volvo China Open has held 50 qualifying competitions with a total of 156 qualifiers. For most of the young golf players, the Volvo China Open has become an essential way they get to more advanced international golf competitions.
haoyan@chinadaily.com.cn
Highlights
France's Alexander Levy set a record with his second championship victory at the 2017 Volvo China Open after beating South Africa's Dylan Frittelli in a captivating playoff.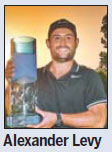 The Volvo China Open is organized by the China Golf Association with Volvo Car Event Management as co-organizer and promoter. It is co-sanctioned by the European Tour and OneAsia.
The tournament, offering a total prize of 20 million yuan ($2.9 million) this year, is one of the highest-level international professional golf tournaments in China.
Compared with other golf events, it has a high representation of Chinese players and has made a significant contribution to the development of the sport in China.
Volvo Cars has consistently supported the Volvo China Open since 1995. The 23rd Volvo China Open was the 86th event on the European Tour to be title-sponsored by Volvo.
A large number of leading Chinese and international golfers were attracted to the event, including the latest World Cup of Golf champion Thorbjorn Olesen, four-time European Tour champion Bernd Wiesberger, 15-time European Tour champion and 2018 Ryder Cup captain Thomas Bjorn, and well-known Chinese golfers Li Haotong, Wu Ashun and Zhang Lianwei.
(China Daily 05/08/2017 page19)