Brose to localize, expand R&D for greener, next-gen auto parts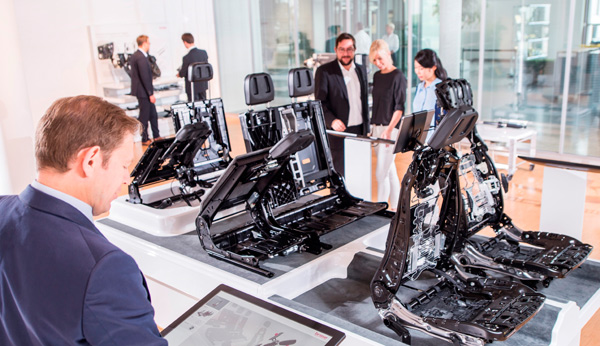 Customers visit Brose's power seat platform in its new headquarters in Anting town, Jiading district of Shanghai. PROVIDED TO CHINA DAILY
Brose to localize, expand R&D for greener, next-gen auto parts
German automotive parts maker Brose China is becoming well prepared for the growth in the Chinese new energy vehicle market.
The company is further enhancing its localized research and development capabilities, especially in the cutting-edge 48-volt technology for nextgeneration new energy vehicles, after investing 78 million euros ($85 million) in the new headquarters in China, which also serves Brose Group as the Asian headquarters.
"Brose has been working in the electrification field for 12 years in China. The specialized expertise will benefit our development in tomorrow's mobility," said Jurgen Otto, CEO of Brose Group, at the new headquarters opening ceremony on April 20.
"We see great potential in China, especially as the leading market for e-mobility. Brose wants to play a major role in shaping the future of the automobile," he continued.
Industrial data show that a total of 55,929 new energy vehicles were sold in the first quarter, 4.7 percent less than that of the same period of 2016.
However, fully electric cars' sales volume climbed 4.4 percent year-on-year to 44,333 units.
Last year, the country saw 507,000 electric cars, plug-in hybrids and fuel cell cars sold, a 53 percent surge year-on-year.
Aside from the 48-volt technology, Brose will also expand its local expertise on new energy vehicle parts in Shanghai.
The new headquarters will become a development center for brand new and innovative products for the region and Brose Group. The Chinese market is expected to realize a revenue of about 2 billion euros, and contribute about 25 percent to the group by 2025, Otto added.
However, there won't be an engineer knowing what the vast number of Chinese customers really want, and the engineer should not make something supposed to be right and force the buyers to accept, according to John Shen, managing director of Accenture Strategy Greater China.
"The research and development philosophy and patterns are changing swiftly in the automotive fields, and the trend is heading toward fast prototyping," he said.
Brose' business usually starts from a self-developed prototype, then joins hands with local automakers to tailor suitable solutions and parts.
Jenny Xiang, president of Brose China, said: "Our approach is to further integrate the cooperation with Chinese manufacturers, and deliver our longstanding technical expertise within a quick reaction time."
The German family-owned company also announced its three-year plan that a total of 1 billion euro will be invested in technical equipment, systems and the expansion of additional locations of the worldwide production bases during the period from this year to 2019.
In the next several years, the group is hoping to take on a pace 5 percent faster on average than the global automotive market, according to the plan. Otto noted: "As a technological leader in mechatronics, we have set high standards with our customers worldwide, always thinking one step ahead and outside the box. Innovation, quality and efficiency are the main drivers for our success."