GAC prepares to take on the global market for growth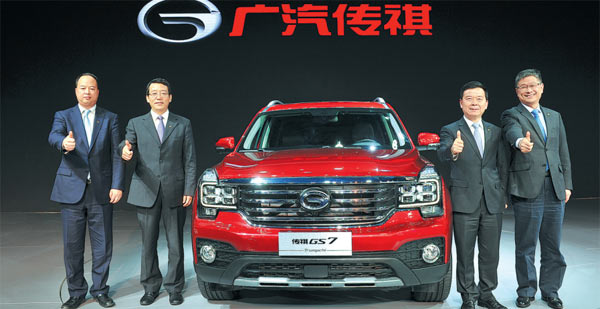 Senior executives of GAC Motor attend the unveiling ceremony for the GS7 in the Shanghai auto show. [Photo provided to China Daily]
GAC Motor, a subsidiary of Guangzhou Automobile Group, has been rapidly expanding its presence in domestic and overseas markets in recent years as part of its strategy to develop into a world-class carmaker.
"We are building a world-class system in terms of production, sales and technological research and development, which will ensure high quality and design for our products," said Yu Jun, general manager of GAC Motor.
Yu made the remarks on Wednesday as the company unveiled six innovative new vehicles for the domestic market at the 17th Shanghai International Automobile Industry Exhibition, or Auto Shanghai.
The new models include GAC Motor's first electric vehicle, the GE3, its SUV GS7, the latest version of the GA8, the EnSpirit concept car, the GS4 PHEV and the GA3S PHEV.
GAC Motor, based in Guangzhou, the capital of Guangdong province, has achieved dramatic market growth since it was established in 2008.
The company sold more than 380,000 vehicles in 2016, a year-on-year increase of 96 percent. It has achieved a more than 80 percent average compound annual growth rate for six consecutive years, from 2011 to 2016.
In the first three months of 2017 alone, the sales of GAC Motor's vehicles grew by 68 percent year-on-year to 121,000 units, according to the company.
GAC Motor plans to launch nine varieties of cars in 2017, with the aim of optimizing its product structure.
The company is currently building new processing facilities in the Xinjiang Uyghur autonomous region and in Yichang of Hubei province, and upgrading a factory in Hangzhou, Zhejiang province.
"We are making efforts to expand production capacity to meet growing market demand," Yu said.
The company expects to sell 500,000 cars in 2017 and plans to produce 1 million cars in 2020. According to Yu, GAC Motor is also positioning itself to bring its high-quality cars to the international market, after establishing sales and service networks in 14 countries and regions in the Middle East, Southeast Asia, Eastern Europe, Africa and North America.
"We will launch the star models of GA8 and GS8 to overseas markets, providing high-quality products and services for international consumers," Yu said. GAC Motor's high-end sedan GA8 and the seven-seat SUV GS8 have both seen market growth since they were launched last year. Sales of the GS8 surpassed 10,000 units in March, making it one of the fastest-growing SUV models in the Chinese market.
The company has already set up an R&D center in North America, which will act as a key growth engine in its international market strategy, according to Yu. The company's North American R&D center will be responsible for talent cultivation and advanced technology, helping the company to achieve further global outreach, Yu said. "Our best-value cars will enter the North American market no later than 2019, after we complete market surveys, obtain local certification and regulation and communicate with potential dealers," he said.
GAC Motor also signed strategic agreements with 10 international auto parts suppliers on Wednesday in Shanghai.
"By adhering to high international standards in product quality and establishing world-class car manufacturing systems, we will continue to bring our brand to more consumers globally with new products and services," Yu said.