Skoda debuts first electric car in Shanghai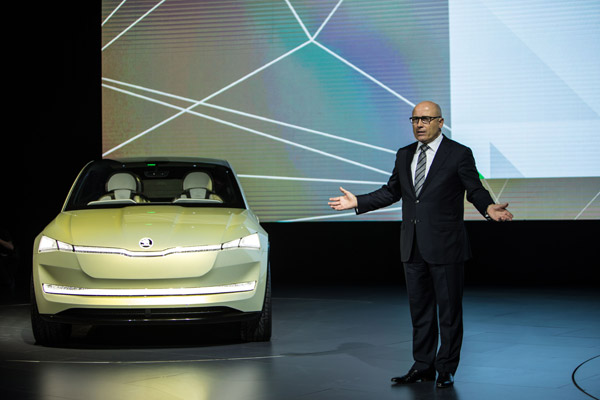 Skoda CEO Bernhard Maier showcases the company's electric car Vision E on April 17. [Photo provided to chinadaily.com.cn]
Czech carmaker Skoda Auto has unveiled its first ever electric concept car in Shanghai, declaring that electric cars will be a pillar of its development strategy.
The Vision E has a maximum output of 225 kilowatts and can run at a top speed of 180 km/h, with a mileage of 500 km.
The concept also features Level 3 autonomous driving, which means it can drive itself on express ways and park itself without human intervention.
Skoda plans to release its first purely electric car onto the market in 2020.
Skoda CEO Bernhard Maier said it will launch five entirely electric cars in various segments of the market before 2025.
In addition to the concept car, Skoda announced it will release an estate car, Octavia Combi, into the Chinese market later this year.
China has been Skoda's largest market worldwide.
It sold 317,000 cars to Chinese customers last year, and Skoda plans to double sales by 2020 with its growing portfolio.
Skoda entered the Chinese market in 2007 and has since localized its models with SAIC Volkswagen. Statistics show that it has sold more than 2 million cars in China in the past 10 years.