Skoda to chase China's SUV sales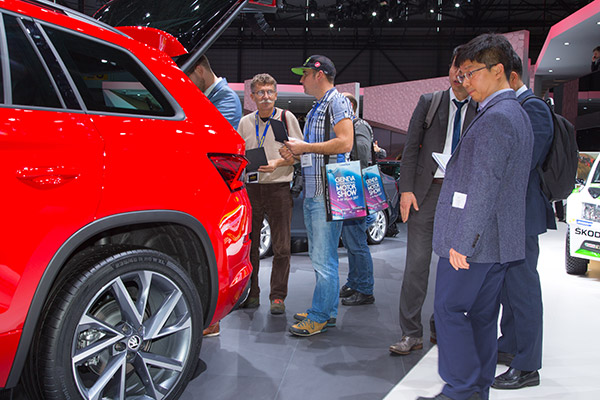 Reporters and visitors examine the Kodiaq SUV at the ongoing Geneva International Motor show. The model will hit the China market in April. [Photo provided to China Daily]
Czech automaker's long-term strategy shows segment's importance in the world's largest car market
Czech carmaker Skoda Auto is set to launch the first salvo in its China SUV offensive with the introduction of the Kodiaq in April as part of its campaign to double sales in its largest market by 2020.
Unveiled last year in Berlin, Germany, the model is named after the largest island in Alaska, the United States, indicating the car's powerful engine performance and bold, muscular design.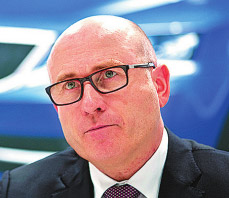 Bernhard Maier, CEO of Skoda. [Photo provided to China Daily] 
The Kodiaq, which is localized at Skoda's joint venture SAIC Volkswagen, will be launched at the Shanghai auto show, which opens in late April, said Skoda CEO Bernhard Maier in an interview during the Geneva auto show, where the brand is showcasing six models, including the Kodiaq Scout and Kodiaq Sportline.
"An automaker will not make it in China without a proper SUV plan," said Maier.
"In fact, China will be the only market where we offer as many as four SUVs."
SUVs are now the fastest-growing car segment in the country.
Statistics from the China Passenger Car Association show that 1.55 million SUVs were sold in China in the first two months of 2017, surging 20.1 percent year-on-year.
Besides the Kodiaq, Skoda will launch another SUV later this year. This will be followed in the years to come by a Kodiaq coupe and a compact SUV, which is designed in cooperation with SAIC Volkswagen specifically for Chinese customers.
These models are part of a 15 billion yuan ($2.17 billion) investment deal that Skoda signed with SAIC Motor last year to introduce more SUVs and new energy cars into China.
"I think that our SUV strategy comes at a proper time now when we are celebrating our 10th anniversary in China. It will mark a new starting point of our development in the country," said Maier.
Skoda started selling cars in China in 2007 and over the course of the past decade, it has delivered more than two million cars to Chinese customers.
Its annual sales in China hit a record high of 317,088 cars in 2016, representing growth of 12.6 percent from the previous year, driving its global sales to 1.13 million cars.
"On our growth track, China takes a key role. It is our objective to double our business in this market by 2020," said Maier.
Besides new gasoline models, Skoda is rolling out new energy vehicles to enrich its portfolio of models as part of a development plan called Strategy 2025, and China sits at the top of the agenda.
"Skoda will offer its new energy vehicles in the Chinese market before introducing them into other markets," said Maier.
China has been the world's largest market for new energy vehicles since 2015. Skoda was acquired by the Volkswagen Group in 1991 and has since benefited both financially and technologically.
Yet the Czech brand is fostering an independent image with its new design language, evoking pictures of Bohemian crystals.
"Skoda has made it very clear in its goals that our brand centers around an active lifestyle," said Maier.
"In the past one and a half years, our new design language has played a crucial role in our development, helping each Skoda car on the road to distinguish itself from others."
Experts say the new design features will appeal to the younger generation of customers in the country.
As part of its effort to double its sales, Skoda is also planning to further expand its China dealership network, especially in tier 3-5 cities and inland areas, as the auto market shifts its focus to smaller cities.
The company currently has 670 points of sales and 400 4S dealers.
The number of 4S dealerships will rise to more than 600 by 2020.