Daimler in mainland R&D push
German automaker Daimler AG will continue to invest in research and development in China, to develop a new generation of electric vehicles, the company chairman said.
The R&D push will seek to speed up localization and ensure sustainable growth as the China market holds great potential in the area of electric mobility, he added.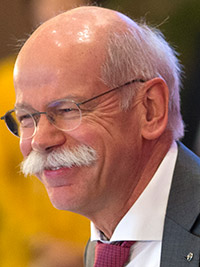 Dieter Zetsche, chairman of Daimler AG. [Photo provided to China Daily]
Daimler is confident of maintaining a sustainable growth in China through continuous investment in innovation and localization efforts, said Dieter Zetsche, its chairman and head of Mercedes-Benz Cars.
"The automotive industry is experiencing fundamental change in the aspects of connectivity, autonomous driving, sharing and electric mobility, and each of these has the power to turn our entire industry upside down," he said, adding China has become an important driving force in the transformation.
"Electric mobility is developing fast in China. We are aiming to further contribute to this development by planning to produce our new generation of electric Mercedes-Benz models here," he said.
Daimler plans to invest up to 10 billion euros ($10.8 billion) in developing electric vehicles in the next four to five years. "We do believe by 2025, between 15 and 25 percent of our worldwide production would be electric vehicles," Zetsche said.
China's electric vehicle market has boomed as the government expects that cumulative sales of pure electric vehicles and plug-in hybrids will reach 5 million units by 2020.
Meanwhile, the country plans to build 800,000 charging points for electric vehicles this year to meet the increasing demand.
Given the growing importance of electric vehicles, several types of the company's plug-in hybrid models are available in China. Daimler further extended its electric vehicle portfolio with the recent introduction of an upgraded model of the Denza pure electric car, which is a joint product by Daimler and BYD Co Ltd.
The automotive giant will continue to increase investment in R&D to develop more efficient and environmentally friendly electric vehicles in future.
Zetsche also said the premium car market in China has grown faster than the mass market for a number of years, suggesting the premium car segment will continue to be very attractive, with China being the biggest market globally for Mercedes-Benz Cars.
At present, about two-thirds of the Mercedes-Benz passenger cars sold in China are manufactured locally, according to the company. It attaches huge importance to its local R&D team comprising 700 engineers and designers.
Hubertus Troska, member of the board of management of Daimler AG, is confident that China's automotive industry will continue its positive growth this year.
Daimler has stepped up efforts to localize its products and services. Last year, Daimler and BAIC Motor jointly invested another 4 billion yuan ($588 million) to further expand the Beijing-based engine plant and increase the company's local footprint.
It is also striving for a place in China's burgeoning sharing economy, being the first premium automaker to offer car sharing in China. Its car-sharing service Car2go was launched in Chongqing in April 2016.
Analysts have said with the implementation of preferential policies related to electric vehicles and the enhancement of technology, the growth rate of electric vehicles will reach more than 40 percent this year, with its sales reaching 800,000 units.
"The electric vehicle market will continue to maintain rapid growth this year, and it is estimated that the sales of passenger electric vehicles will exceed 70 percent of the total sales of EVs," said Xu Yanhua, deputy secretary-general of the China Association of Automobile Manufacturers.