Branding key for Japan's premium cars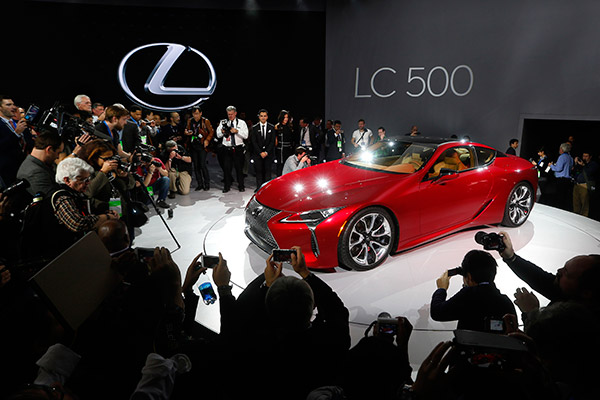 The Lexus LC500 debuts at the North American International Auto Show in Detroit last year. [Photo/Agencies]
Country's marques seeking greater recognition in China's luxury segment
China is now the largest market for most of the premium car brands that typically spring to people's minds: Porsche, Jaguar Land Rover and Lincoln, not to mention the German giants of Audi, BMW and Mercedes-Benz.
But Japanese marques are notable absentees from this list. Three of them, however - Lexus, Infiniti and Acura - have introduced some new measures in the hope of changing this situation, although it appears that the road ahead will remain bumpy, at least in the short term.
The smallest of the three, Acura, sold 800 cars in China in February. This figure, though almost negligible in a market where more than 2 million premium cars are sold each year, still translates to 357 percent growth year-on-year.
This growth can largely be attributed to the brand's localization at GAC Honda last year. Despite the surge, it will likely be extremely difficult for Acura to realize its goal of selling 30,000 cars this year in China, and this is reflected by the fact that its sales in the first two months of this year totaled less than 1,500.
Auto analyst Zhong Shi believes most of Acura's woes can be attributed to an image problem. Despite the fact that it has been in China for more than a decade, it remains largely unknown, and is often mistaken for the local Chinese brand, Changan, because it has a similar logo.
"There are too many cars in the market now and without decent publicity, a brand has little chance of gaining wider public recognition," he said.
Infiniti offers a perfect example of how improved advertising in China can boost a brand.
Its sponsorship of a reality TV show called Where Are We Going, Dad? in late 2013, boosted awareness of its brand, and its sales for the same year totaled more than 30,000 units, a 76 percent surge year-on-year.
This sales performance led to the decision to localize the brand in China in 2014, with two models, the QX50 and Q50L, soon accounting for the majority of its sales.
The brand has even vowed to become an alternative to its established German rivals.
Yet its leadership reshuffle, which started in early 2016 and lasted well into the year, made its growth rate to fall again to 3.4 percent year-on-year, the lowest of all in the market.
Its newly-appointed managing director for China, Lu Yi, chose to take a grassroots, pragmatic approach to overhauling the brand's strategy.
Lu said he visited 130 dealers last year with his deputy Lei Xin, adding that their knowledge and input was crucial if he hoped to formulate the "most practical" business policies.
He said that, this year, Infiniti would introduce four models, focus on experience-based marketing and implement a large-scale brand recognition strategy.
The fact is, though, that Lu might have to move even faster than planned, with statistics showing that the brand sold just 3,590 cars in January, representing zero percent growth year-on-year.
"Both the market and customers are demanding and they won't wait for anyone. Being a young brand is no excuse; but there's no doubt that it is a big challenge," he said at a news conference in January.
Compared with Acura and Infiniti, Lexus' performance in China can be deemed successful.
It sold 109,000 cars last year in the country, ranking sixth by volume in the premium car segment.
This performance is even more impressive considering the fact that it only sells imported cars, while all of the better-selling brands produce cars in China.
Lexus' refusal to localize is hailed as an example of its commitment to quality and luxury, yet the policy has also led to undesirable side effects, according to industry insiders, with the brand ranking fifth in both 2014 and 2015 in the premium segment.
So far this year, the gap has not narrowed between Lexus and its long-time rivals. Lexus sold around 18,000 cars in the first two months in China, while Cadillac sold 27,000 and Jaguar Land Rover sold more than 21,000.
Despite the challenges, Lexus still has no plans to localize. Tetsuya Ezumi, executive vice-president of its China unit, told reporters late last year that Lexus is not obsessed with figures and is instead focused on quality and growth.
It will, however, unveil a new brand strategy in China in April now that it has changed its former global tagline "The Pursuit of Perfection" to "Experience Amazing".
Yoshihiro Sawa, an executive vice-president of the marque, said Lexus aims to focus on "being itself" so that it can attract customers who have the same aim.