BMW maintains sustainable growth with localization and innovation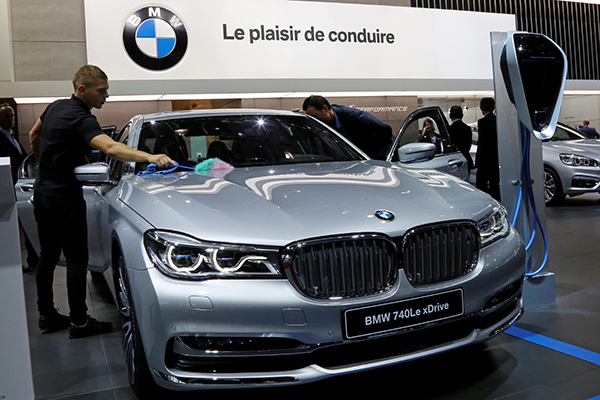 A BMW 740Le xDrive hybrid car is displayed at the Mondial de l'Automobile, Paris auto show, during media day, in Paris, France, September 30, 2016. [Photo/Agencies]
BMW Group is set to announce double-digit growth in its centenary year in China as a result of its determined localization and customer-focused innovation efforts.
The German automaker has delivered a total of 472,705 new BMW and Mini cars to Chinese customers in the first eleven months of the year, achieving a growth rate of 11.2 percent year-on-year.
"This has well exceeded our expectations," said Olaf Kastner, president and CEO of BMW Group Region China. "We are pleased to see this result and are looking forward to maintaining the double-digit growth for 2016(as a whole)."
BMW's successful development in the country is a testament to a journey of constant learning and adaptation to the local environment.
The automaker's localization efforts improved its operational excellence in sales, marketing and dealership development, centering on local customers' needs.
In line with the domestic SUV spree, the BMW X1 Sports Activity Vehicle took advantage of current trends in China. The all-new localized model has an 11-centimeter-longer wheelbase than those produced in Germany.
It has fueled the group's sales achievements this year, thanks to the research and development team's thorough understanding of Chinese consumers' demands.
Meanwhile, the company sees innovation as another critical aspect, because the market today is changing rapidly.
For the first time in decades, innovation has provided automotive market participants with real, disruptive challenges.
Kastner said: "BMW is the pioneer in the field of e-mobility, connectivity and sustainable production, which have given us significant advantages."
From January to November, the carmaker sold three times more electric vehicles in China than in the same period last year, while the X1 PHEV, the first model from BMW's new energy family, became localized.
The trend-setting "family", iPerformance as BMW calls it, has since grown to five members, including the imported BMW i3, i8, X5 xDrive 40e and 740Le.
Over the last three years, BMW has sold more than 100,000 new energy vehicles worldwide and plans to sell another 100,000 in 2017.
"In order to repeat our success of the last 100 years for the next 100 years, we at BMW have to keep our proactive approach to our business, which means to further innovate and lift sustainability to even higher levels," Kastner added.
A positive future
According to Kastner, the economic situation in China for premium mobility products and services is promising, as China consumer confidence remains robust, while key consumer trends like urbanization and the emerging middle class will continue to drive demands for mobility.
"With qualitative improvements at the top of the agenda, BMW Group aims to continue sustainable growth in China in the next 12 months and beyond," Kastner continued.
Following its global Strategy Number One > Next, BMW foresees a strong product portfolio with more local products that will fully capitalize on market potentials.
In the hope of attaining leading positions in more segments, the automaker will launch 14 new models in 2017. Over the next two to three years, more of BMW's products will be locally produced and its new energy vehicle portfolio will also be significantly extended. The company's confidence for the future is based on its leading position in customer satisfaction, in addition to sales figures.
The premium carmaker has been driving sustainable growth while maintaining high quality and a customer-focused approach.
The 2016 International Aftersales Customer Survey showed that customers are most satisfied with BMW among German premium brands.
Meanwhile, the younger generations, including entry-level product buyers, are set to become mainstream customers in the near future.
Enjoying a "Born Digital" lifestyle, younger consumers are used to organizing their daily lives via apps.
Kastner said: "We see new opportunities coming from customers of the younger generation." Keeping pace with younger Chinese people, this month the company is launching a new digital customer experience offer-BMW Connected-as digitalization opens new doors for customer engagement and extends value creation from hardware to software and services.