GAC's brands prove a success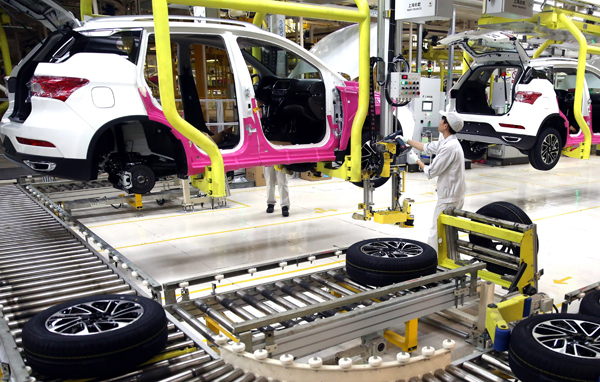 Workers assemble a GS8, a homegrown SUV, at the production base of GAC Group in Guangzhou, Guangdong province. [Photo provided to China Daily]
Editor's Note: China Daily kicks off a special series on homegrown companies' growth, branding strategies and business operations. The series will look at industry segments like auto manufacturing, pharmaceuticals, new materials, home appliances, childcare products and industrial cables. The series' first part takes stock of Chinese automakers' ambitious future plans.
Guangzhou Automobile Group Co Ltd, one of China's major carmakers, has long been known for its production and sales of Japanese car brands such as Toyota and Honda, since it established joint ventures with the Japanese car giants more than a decade ago.
However, the Guangzhou-based carmaker started developing a homegrown car brand eight years ago, at a time when the domestic market was almost entirely dominated by foreign brands.
"Cooperation with the Japanese carmakers in recent years has made a great contribution to launching innovative and homegrown brands. We needed to boost our market presence by launching a high-end homegrown brand," said Zeng Qinghong, president of GAC Group.
Thanks to increased efforts focusing on research and development of self-innovated technology, GAC Group's homegrown vehicles, under the Trumpchi brand, have become a hit in the domestic market, with annual sales increasing more than 80 percent year-on-year since it was established in 2008.
In the past 10 months, GAC Motor, a subsidiary of GAC Group, sold more than 296,000 Trumpchi cars, a year-on-year rise of 126 percent, the company said.
"We will focus not only on the production of joint-venture brands, but also homegrown vehicles," said Zeng.
GAC Group has been positioning to develop three varieties-Japanese brands, European and US brands, and homegrown vehicles.
"We are transferring from simply manufacturing joint-venture cars to developing a powerhouse of homegrown vehicles," said Zeng.
According to Yu Jun, general manager of GAC Motor, the demand for high-end homegrown vehicles has exceeded the company's production capacity.
The company has secured orders for more than 18,000 units of the GS8 since sales of the seven-seat SUV were launched in late October.
"Sales of the GS8 will reach more than 100,000 units a year as it is very competitive both in quality and design in the domestic market, which is traditionally dominated by foreign brands," said Yu.
The company will make more effort to expand its capacity to meet growing domestic market demand for its high-end vehicles.
After the second assembly line of its Guangzhou facility was put into operation in July, GAC Motor became able to produce 400,000 cars annually. The company is also building an assembly line in the Xinjiang Uygur autonomous region and is upgrading another facility in Hangzhou, capital of Zhejiang province.