Audi, SAIC team up on sales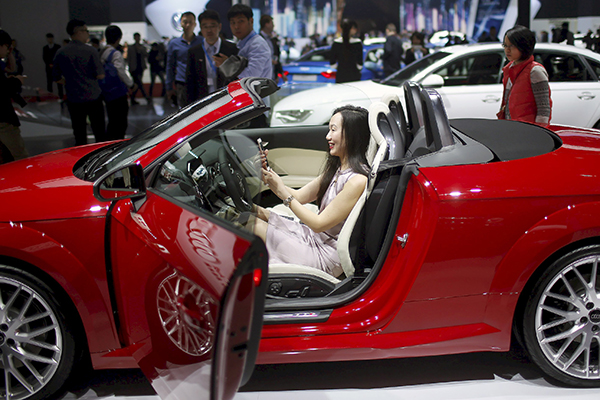 A woman takes pictures of herself with her mobile phone inside an Audi car during the 16th Shanghai International Automobile Industry Exhibition in Shanghai. [Photo/Agencies]
Models to be produced by JV include new-energy vehicles, venture will explore the possibility of smart mobility services
Audi AG has joined hands with China's largest automaker SAIC Motor to localize and sell its models, a move to consolidate its beleaguered lead in the country's premium car market.
Shanghai-listed SAIC Motor said in a letter to investors on Monday that it signed a memorandum of understanding with Audi's parent company Volkswagen AG at its headquarters in Wolfsburg, Germany, on Friday.
According to the agreement, the Audi models to be produced at SAIC Volkswagen will include new-energy vehicles and the joint venture will explore the possibility of smart mobility services.
Audi was tightlipped about the issue, saying that SAIC Motor "entered cooperation talks with Audi AG to evaluate long-term collaboration in China".
Although neither side offered details about their cooperation, Chinese media reports said SAIC Volkswagen will manufacture Audi models as OEM.
As part of Volkswagen AG, Audi is not allowed to build its own manufacturing joint ventures in China as Volkswagen has already two: SAIC Volkswagen and FAW Volkswagen.
According to the nation's industry policies, a foreign automaker can have no more than two manufacturing joint ventures in China, and if one automaker has controlling stakes in another, they are regarded as one automaker.
Audi has been the champion in China's premium car market, but it is losing steam compared to its competitors.
Statistics show that Audi sold 440,233 cars on the Chinese mainland and in Hong Kong in the first nine months of this year, 6.2 percent growth year-on-year.
In comparison, BMW's sales in the same period rose 10.6 percent year-on-year to 379,000 units, and Mercedes-Benz sold 344,791 units in the same period, a 29.5 percent surge year-on-year.
FAW Volkswagen, in which Audi has a 10 percent stake, is now localizing and selling Audi models in China.
Li Yanwei, an auto analyst at the China Auto Dealers Association, said Ge Shuwen, former deputy general manager of FAW Volkswagen's Audi division, may join SAIC Volkswagen to head its Audi unit.
Industry insiders said Audi has to carefully tackle the problem of how to balance its relations with the two partners.
Audi said on Monday that the two will intensify their cooperation and FAW-Volkswagen will add five locally produced Audi e-tron models to its China portfolio-including pure battery vehicles with a range of more than 500 kilometers, within five years.
"Audi and FAW have cooperated closely for more than a quarter of a century. With our long-term growth strategy we will build upon this successful partnership," said Rupert Stadler, chairman of the board of management of Audi AG.
Audi dealers, who were not informed of the deal in advance, are voicing their anger, demanding a response from Audi about how to protect their interests.
A public letter from the CADA Audi Dealers Association said some dealers are faced with high inventory and "the interests of Audi dealers will be further damaged if you set up a new sales company".
There are currently around 500 authorized Audi dealers across the country.