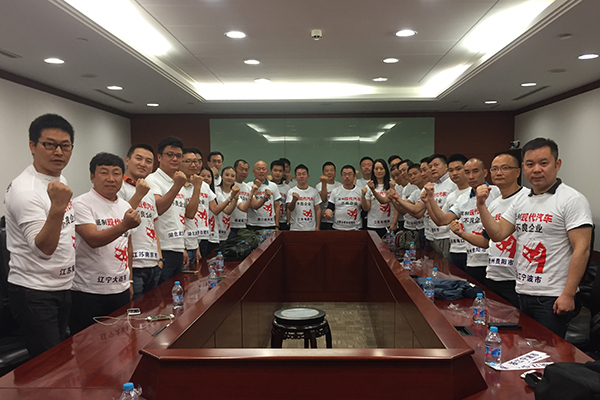 Hyundai dealership owners protest in Hyundai Motor Group (China) Ltd's office building in Beijing. They asked for compensation for Hyundai's alleged premeditated plan to shut down their network for imported cars. [Photo/China Daily]
The small business owners claim that the international automaker planned to close them down
Thirty local dealers are seeking compensation from Hyundai Motor Group (China) Ltd for losses totaling 600 million yuan ($90 million), which relates to the South Korean automakers' alleged premeditated plan to shut down the network for imported cars.
The furious dealership owners protested in Beijing on Sept 20, unified in white T-shirts saying "Unscrupulous Hyundai", in front of Hyundai China's office building, because its commitment "far from covers employees' severance packages".
Hyundai China made a verbal commitment to give a total of 60 million yuan of financial support to the 30 dealers from many of the country's different provinces. But the dealers estimated an average loss between 3 million yuan and 10 million yuan a year each.
The imported car dealers believe that Hyundai China is deliberately forcing them to quit the imported car business. They are disappointed that Hyundai China has refused their orders and that it has failed to deliver them sufficient car stocks.
"Many of us put in all our possessions, only to find that Hyundai China is dumping us and establishing another, separate network," a Hyundai China imported car dealer told China Daily in an earlier interview.
"We expect that some related government bodies will look into the matter. Hyundai China has a powerful legal team that we might not defeat, that's why we are not taking legal actions."
All of the imported Hyundai branded cars are moving to the joint venture Beijing Hyundai Motor Co Ltd's networks. In addition, a separated network is in the pipeline for the premium Genesis series, launching within two to three years. As a result, Hyundai China is providing the dealers with the slow-moving Veloster hatchback only, which they don't need.
Hyundai Motor has been hit by 10 straight quarters of falling profits, with Hyundai China selling about 1.1 million passenger vehicles in China in 2015. The import-only Hyundai dealership network shrunk to about 40 dealerships from about 60 last year.
Bargaining game
Experts see lessons to learn and costs to pay by both the automakers and dealers.
Jia Xinguang, a seasoned analyst with China Automobile Dealers Association in Beijing, highly values fair play, in accordance with the contract law for healthy relationships between carmaker and dealers.
"There's no necessity for a carmaker to replace the majority of its dealers, a carmaker has no reason to force the dealers to go out of business and run away, avoiding the debt," Jia said. "The dealers might not receive such high cash subsidies supports from the carmaker."
Zhang Yang, an attorney with Allbright Law Offices, advised that both the dealers and carmaker bear part of the losses incurred while aspiring for gains.
"The dealers might have to take a portion of the losses for buying in slow-moving Hyundai cars, but the carmaker still has to support and give subsidies for the market risks of providing unpopular car stocks that customers don't want," said Zhang.
Neither Hyundai China nor the import-only dealers made money in the cooperation, but none of them were forced into the contract; it was voluntarily signed.
"There could be market risks to be shouldered by both parties," said Zhang. "Both parties made their choice with an expectation for benefits, but they also were aware of the risks."
Zhang also noted that if the contract defined Hyundai China's obligation on the wholesale amount, the dealers are entitled to claim actual losses by calculating the agreed specific wholesale amount minus the actual amount.
However, the dealers' authorization contracts could include some unfavorable terms or could ignore some of their legal rights, because of the different bargaining powers of the dealers and the international carmaking giants.
John Zeng, managing director of LMC Automotive Consulting, said carmakers and dealers have been competing within their cooperation.
"Some small dealers heavily rely on the carmakers' support, while some larger and stronger dealer groups have their say in selecting carmakers to work with and in ordering stock," said Zeng.
"Carmakers even compete each other to work with some dealers who have showrooms in excellent locations."
Previously, dealership companies were only allowed to work with one carmaker and operate showrooms for one brand, before the government watchdog allowed dealers to modify their registration from an "auto sales company of a certain brand" to just an "auto sales company", from October 2014.
Now a dealer can turn to another auto brand more easily, or sell products from several brands at the same time, as the brand wouldn't be bonded in its registration at the local industry and commerce administration.
When dealers formed groups and selected representatives to talk with the carmakers, the international giants are more likely to negotiate with the representatives. Some of the nation's dealers took the risk of refusing to take stock, and the carmakers showed their respect by offering more favorable support, including cash.
In January, dealerships for imported Jeep and Chrysler cars tried seeking more than 1 billion yuan in compensation from GAC Fiat Chrysler Automobiles. They claimed to have lost 1.2 billion yuan in revenue from failing to sell Chrysler's high-priced vehicles. The US brand adjusted its business policy and lowered the sales target for the dealers, but the solution has not been finalized.
BMW, Mercedes-Benz, Audi and Jaguar Land Rover established communication systems to hear dealers' opinions. They also set lower sales targets and issued support plans, including cash subsidies, to help dealers overcome their financial difficulties.