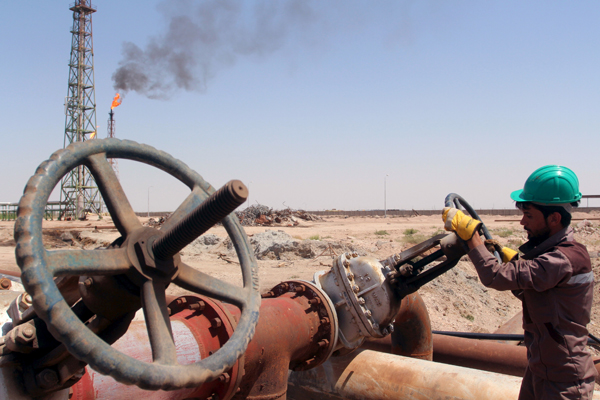 A worker checks the valve of an oil pipe at Al-Sheiba oil refinery in Basra, Iraq.[Photo/Agencies]
The Organization of Petroleum Exporting Countries, or OPEC, made a decision to cut daily oil output by 700,000 barrels.
The decision has driven up oil prices up close to $50 per barrel. The WTI Crude Oil Spot Price increased by $2.38 to $47.05 per barrel on Wednesday, up 5.33 percent from the previous day. Brent Crude Oil Futures Prices increased by 5.92 percent to $48.69 per barrel on the same day.
According to Reuters, OPEC has reached a consensus to keep its daily production within 32.5-33 million barrels per day, compared with 33.2 million tons per day in August. It is the organization's first decision to control oil output since 2008.
China Oilfield Services Ltd shares increased by 11.3 percent to HK$6.8 per share on the Hong Kong Stock Exchange on Wednesday, the biggest increase since Feb 18. China National Offshore Oil Corp saw its H shares up 5 percent to HK$9.7 per share on Wednesday.
Gao Jian, an oil analyst with Shandong-based bulk commodity information company Sublime China Information Group Co Ltd, said that OPEC's output reduction is unlikely to have substantial impact on oil prices in the long run.
"Now is the lean season for oil consumption. Overall energy demand remains weak. Investors will still focus on the basic supply and demand," he said.
Gao said that the output of other major oil exporters needs to be taken into account, such as Russia and the United States.
"If Russia and the US increase their oil output, it will offset OPEC's reduction," said Gao.
According to Russia's ministry of energy information, the country's crude and condensate oil output stood at 11.1 million barrels per day as of Sept 20, up from 10.7 million barrels per day in August.
Russian President Vladimir Putin has recently announced the opening of new oilfields, which will increase the nation's crude oil output by 600,000 metric tons.
Meanwhile, Libya is planning to reopen the oil export in Port Ras Lanuf. Nigeria's Forcados Port will resume crude oil trade by the end of September, the first time since February.
According to a report by Goldman Sachs, OPEC's output limitation will drive up oil prices in the short run. However, uncertainty will remain in the oil market in the coming months. Since the reduction agreement won't be officially approved until the end of November, its impact on oil prices in the short run is also limited.