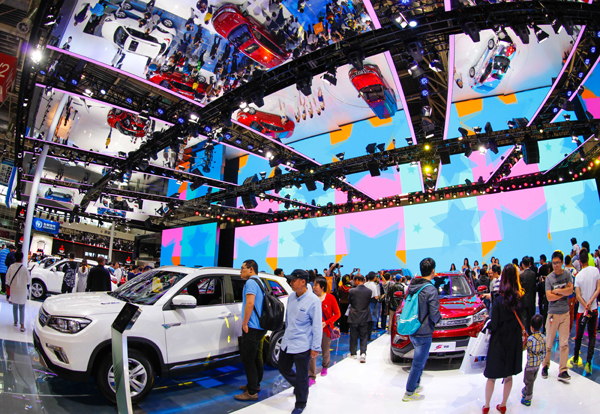 People view cars at the Beijing auto show in April. The number of passenger car sales in July was the highest monthly growth rate in at least the past 30 months. Zhang Haiyan / For China Daily
China's passenger car sales in July surged 26.3 percent year-on-year, the highest monthly growth rate in at least the past 30months, but experts say the rate may fall in coming months.
A total of 1.6 million passengers cars were sold last month, bringing the sales in the first seven months combined to 12.64 million units, up 11.1 percent from the same period last year, according to statistics from the China Association of Automobile Manufacturers.
Soaring passenger car sales have pushed total vehicle sales in the first seven months to 14.68 million units, a growth rate of 9.84 percent year-on-year.
At the start of the year, the CAAM estimated the growth rate in 2016 would reach about 6 percent, and Xu Haidong, assistant to the organization's secretary-general, said there are no plans to revise that estimate.
The year-on-year surge in July was because of the poor performance in the same month last year, according to Chen Shihua, a deputy secretary-general at the CAAM.
Some 1.27million passenger cars were sold in July 2015, which was lower than the same period last year.
In fact, last year car sales saw negative growth for three months in a row, from June to August, partly as a result of the anticipated promulgation of the national policy in September that halved the purchase tax on cars with engines no larger than 1.6 liters.
In most cases the tax was 10 percent of a car's sticker price.
Car sales grew after the policy was introduced - dramatically in certain months. For instance, sales were up 23 percent year-on-year in November and 18 percent in December.
Compared with so much improved performance in the second half of 2015, Chen said the year-on-year growth rates for sales in the remaining months of this year may not be as high as in July.
The favorable policy, which is expected to expire by the end of the year, remains a strong stimulus. In July, 1.14 million cars with engines no larger than 1.6 liters were sold, a 38.6 percent surge year-on-year.
"So far, each month this year, such cars have accounted for 70 percent of passenger car sales, and the policy has played a role in boosting sales," said Chen.
Shi Jianhua, another CAAM deputy secretary-general, said the organization will lobby the government to make the policy permanent if necessary, adding that the auto industry plays an important role in stimulating the Chinese economy.
Chinese brands
In July, 634,000 cars manufactured by Chinese brands were sold, an increase of 27.6 percent on the same period last year.
Sales of sedans grew 12.1 percent, while sales of MPVs surged 38.4 percent. The popularity of SUVs continued, with sales up more than 57 percent, and 3 out of 5 of the best-selling SUVs in the month were produced by Chinese brands.
From January to July, 2.48 million Chinese SUVs were sold, accounting for 46 percent of all Chinese-branded passenger vehicles.
New energy vehicles are maintaining their momentum. In July, 38,000 units were sold, a 93 percent surge year-on-year,with purely electric passenger vehicles accounting for 81 percent of that total.
Through the first seven months of this year, 207,000 new energy vehicles were sold, up 122.8 percent year-on-year. The CAAM expects total sales of such vehicles to reach 700,000 units this year.
Transport authorities in Beijing said the capital city's license plate quota for electric cars for 2016would be used up by the end of August, indicating a growing acceptance of new-energy vehicles among the capital's car buyers.