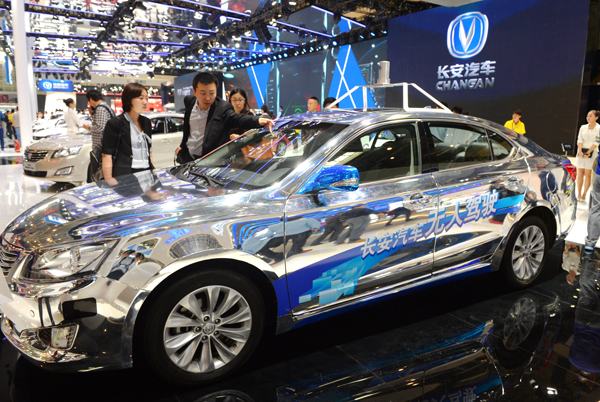 Chinese carmaker Changan displays its autonomous car at the Beijing auto show in April, after it completed a 1,931-kilometer autonomous driving test from Chongqing to Beijing. Hu Qingming / For China Daily
Advanced Driver Systems have come under intense scrutiny after a number of fatal accidents
Drivers should not be overly reliant on in-car assistance functions such as Tesla's Autopilot system, said an official from the Ministry of Industry and Information Technology at a forum on autonomous driving in Shanghai earlier this month.
Jin Xin, deputy head of the ministry's Bureau of Work Safety, said drivers could be liable if they become involved in traffic accidents while using advanced driver assistance systems.
Advanced Driver Assistance Systems are now viewed as precursors to autonomous cars, but Jin suggests that carmakers could become legally responsible for accidents when fully autonomous cars are allowed on the roads.
Jin is the first Chinese official to make public his opinion on the subject following a heated debate on autonomous driving after a Tesla in Autopilot mode crashed into a truck in the United States on May 7. The Tesla driver was killed in the accident.
The US automaker has since faced intense public scrutiny and a rash of further accidents involving the Autopilot system, both in the US and China, has led to calls for the automaker to stop installing the system until it has been fully tested and developed. Tesla's manual, however, specifically warns drivers not to remove their hands from the steering wheel while driving.
Others, however, including Luo Zhen, whose Tesla crashed into a parked Santana in Beijing on Aug 2 while being driven using the Autopilot system, have reiterated their faith in the system, despite its apparent problems.
Luo's views are not uncommon in China. A report by the Boston Consulting Group and the World Economic Forum shows that 81 percent of those surveyed in the country (about 500 people), are willing to try autonomous cars, an increase on last year's figure of 75 percent.
It is even higher than in the US, where 48 percent of those polled said they would be willing to drive autonomous cars, down from 53 percent last year, as well as the average figure worldwide - 58 percent of urban people say they are open to the prospect of trying a fully-autonomous car.
The report, titled "Self-Driving Vehicles, Robo-Taxis, and the Urban Mobility Revolution", builds on a survey conducted last August among more than 5,500 consumers in 10 countries - the largest global survey on self-driving vehicles to date.
The widespread urban adoption of self-driving vehicles and "robo-taxis" or self-driving taxis, could result in a 60 percent drop in the number of cars on city roads, an 80 percent or greater decrease in tailpipe emissions, and 90 percent fewer road accidents, according to the report.
Nikolaus Lang, a senior partner at BCG and co-author of the report, said that self-driving vehicles as well as ride-shared, electric robo-taxis are expected to substantially transform and improve urban transportation by providing more people with easier access to mobility, making streets safer and freeing up space previously used for parking.
However, following the Tesla accident in May, Chinese authorities have imposed a ban on testing autonomous cars on public roads. China is one of the two countries where autonomous driving programs are most common, with the other being the US.
Carmakers including Changan and Geely, which owns Volvo, have emphasized local road testing will be a crucial aspect of developing cars capable of self-navigating the complex traffic conditions and road signage associated with the world's largest auto market.
Chinese carmaker Changan completed a 1,931-km autonomous driving test from Chongqing to Beijing in April, and Volvo did a similar test on a smaller scale in the suburbs of the Chinese capital city last year.
The Ministry of Industry and Information Technology said it is working with police on rules governing autonomous-car testing and warned automakers against conducting public highway trials before the regulations are released.
The timetable has yet to be determined and Jia Xinguang, an auto analyst in Beijing, expressed doubts that they will be released soon.
During the annual sessions of the top legislature and political advisory body in March, Li Shufu, chairman of Geely proposed that China should speed up the drafting of a legal framework for autonomous driving to make roads safer.
But Wang Xiaojing, chief engineer of the Research Institute of Highway at the Ministry of Transport, said the authorities are "positive yet cautious" on the development of such technologies in an earlier interview with China Daily.
US consulting firm IHS expects China to become the largest autonomous vehicle market by 2035, with a fleet of 5.7 million units in the country.