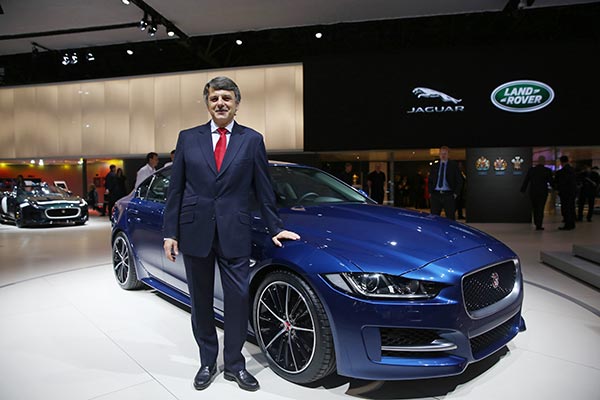 Ralf Speth, CEO of Jaguar Land Rover Plc, poses beside a Jaguar XE automobile at an auto expo.[Photo/Agencies]
LONDON - "I really have a lot of trust in China. China's GDP is going to grow, car market and other markets in China are going to grow," said Ralf Speth, Chief Executive Officer of Jaguar Land Rover, in a recent interview with Xinhua in Coventry, Britain.
Speth said:" China is standing out. Whatever China's economic growth is, you have to think about the base."
He added that China's economy grew by about 10 percent several years ago, and the economic base is increasing. He thought it was unbelievable that China's economic growth could keep a relatively high speed.
Speth also introduced the all-new Jaguar XF Long wheelbase (XFL), which was developed exclusively for Chinese customers.
Ian Callum, RDI, Jaguar Director of Design, told Xinhua that they exclusively developed a car for China because of Chinese market demand, saying "The back space of the car is more important in China than other countries ..., so we give more space."
The Jaguar XFL is designed and engineered in Britain, and it will be the first Jaguar produced at Chery Jaguar Land Rover's manufacturing plant in Changshu of China and heralds the opening of China's first purpose-built aluminium body shop.
In terms of creativities, the director said China's creativity is gaining momentum. "We learn from each other. It is exciting for all of us."
Speth stressed China continued to be an important market for Jaguar Land Rover and they were delighted to introduce their first locally-built Jaguar.
Jaguar Land Rover is a company that brings together two prestigious British car brands. After Tata Motors acquired Jaguar and Land Rover from Ford in 2008, it merged the two marques into a single company.