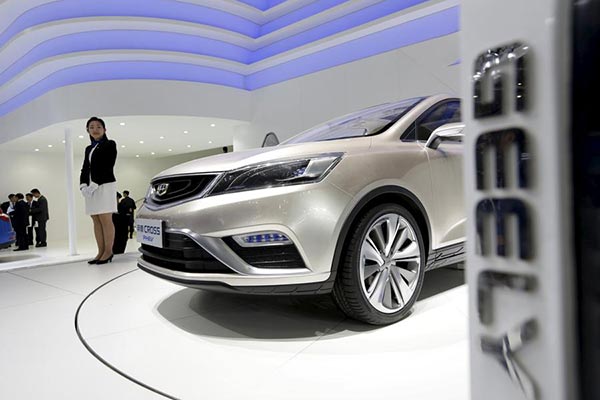 A Geely EC Cross concept car is displayed at Auto China 2014 in Beijing in this April 20, 2014 file picture.[Photo/Agencies]
Automaker Zhejiang Geely Holding Group Co will launch a new brand next year, codenamed "L", with cars based on joint architecture developed with Volvo, three people with knowledge of the matter said.
The brand will launch with a sport utility vehicle-the first model based on the Compact Modular Architecture platform developed by Geely and Volvo, the Swedish automaker it bought from Ford Motor Co in 2010. A sedan is also under development for the new brand.
Spokesmen for both Geely and Volvo declined to comment.
Launching a new car brand when China's economic growth slows down may seem ambitious, but Geely, under Chairman Li Shufu, beat the industry growth rate last year and has turned around Volvo's fortunes.
Geely sales rose 22 percent to around 510,000 vehicles last year, and Volvo earnings tripled, with the Swedish automaker predicting record sales for 2016.
Car sales in China, the world's biggest auto market, are forecast to grow by around 6 percent this year, according to the China Association of Automobile Manufacturers.
The aim is for L-brand cars to compete with Chinese-foreign venture brands, such as those produced jointly by General Motors and SAIC Motor Corp. That would leave Volvo to focus on the luxury market, and Geely to go up against domestic Chinese brands, two of the people said.
The new brand would launch into an already crowded Chinese market where at least a dozen foreign automakers and more than 20 local passenger car manufacturers, many with multiple brands of their own, compete.
"The last thing the Chinese automotive world needs is another brand," said James Chao, Asia-Pacific chief of consultancy IHS Automotive. "The elimination of more brands in China should be the route."