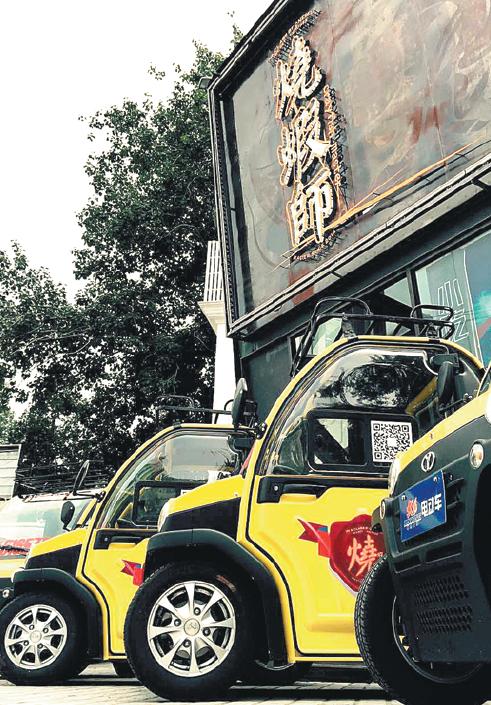 The yellow cute electric-powered four-wheelers outside the Crayfish Master restaurant in Beijing.[Provided to China Daily]

A new range of lightweight electric vehicles catches the fancy of senior citizens and food delivery brigade alike
The three yellow cute four-wheelers parked outside the Beijing's Crayfish Master restaurant, a seafood eatery near the Worker's Stadium, are too striking to be missed. The electric vehicles or EVs, which were launched last year, do not have any registration number plates, and are a common sight these days on the capital's lanes and pavements, if not the main roads.
The three-outlet Crayfish Master uses nine such EVs to deliver meals to customers within a three kilometer radius of each of its restaurants. "They are environment-friendly and make faster rides possible for our deliverymen," said the restaurant chain's marketing manager Qiu, who goes only by her surname. "Plus they look cool."
The lightweight EVs do not qualify for registration and hence cannot be driven on main roads. At a gentle maximum speed of around 40 km per hour, they can cover up to 400 km on a single charge, which could take seven hours. So, they are used for trips to the grocer and neighborhood visits by senior citizens, and for food or merchandise delivery by local restaurants and small businesses.
Many of these EVs bear a strong resemblance to the Smart, and are priced between 10,000 yuan ($1,540) and 30,000 yuan. They appear to be the new-age innovative form of quadricycles.
Yunnan Zhongxinzhibao Automobile Sales and Service Co Ltd, which sells the EVs, said most of its customers are senior citizens and middle-aged people.
"Young people love speed," said the EV retailer's manager Li, who goes only by his surname.
Last year, Wang Jianchang bought an electric four-wheeler for his parents who are both aged 76. "They can now simply sit on the vehicle chair, press a button and go to buy grocery or take a 'stroll-on-wheels' around their neighborhood."
Their car, bought for 7,000 yuan, can attain a speed of up to 9 km per hour. "It is dangerous for them to ride bicycles," said Wang. Such vehicles, however, are not allowed to be taken to the nearby park as the park management fears potential accidents.
Liu Ning, a sales manager at Fogesen, a wholesaler of two-wheel scooters for the seniors and the disabled, said business has not been brisk of late with sales reaching only 600 units annually.
Fogesen has its own bricks-and-mortar store in Beijing as well as an online presence on leading e-commerce platforms such as JD.com and Suning.com. The company said such scooters were designed in Taiwan and introduced in the Chinese mainland recently.
"The idea of getting older people to drive scooters and electric four-wheelers around instead of walking is still new to people here," said Liu. "Many haven't seen or heard of such a way of commuting."
Fogesen's battery-powered two-wheel scooters can reach a speed of 12 km per hour, and can travel up to 60 kilometers on a single charge that could consume six hours. But they, too, are not designed to scorch the main roads.