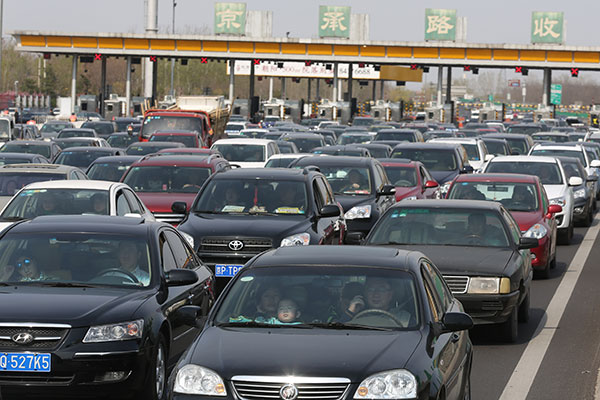 The Beijing-Chengde Expressway. Beijing will ban half of all cars from the road from Aug 20 to Sept 3 to ease traffic during the IAAF World athletics championships and the World War II victory parade. [Photo/China Daily]
BEIJING - China's newest air pollution draft law no longer contains clauses allowing local governments to restrict or ban vehicles to fight air pollution, China's top legislature saw on Monday.
The first draft of the Air Pollution Control Law allowed local governments to restrict or ban vehicles in specified areas and during specified times. The second draft adds a clause that said restrictions should consider public opinion.
The clauses are deleted after lawmakers and members of the public argued that the restrictions "are related to" citizens' rights to property. The law has sparked a "huge public reaction".
It is up to local legislature to decide whether a driving ban will be adopted in their jurisdiction, and driving restrictions will only be provided in local legislation based on actual need, according to the report.
In a bid to control smog, Chinese cities have begun to restrict the use of vehicles. In Beijing, vehicles are restricted one out of five weekdays based upon the last numbers of their license plates. As lawmakers discuss the draft amendment, half of Beijing's cars are off the road.
A traffic restriction will be imposed from Aug 20 to Sept 3, allowing even-numbered license plate owners to drive on some days and odd-number drivers to drive on others, as the city gears up to host the IAAF track and field World Championships and the World War II victory parade.
The draft amendment also adds a slew of new restrictions and requirements to clean up air.
Control pollution source
With China's gasoline standards lower than those of automobile exhaust, the draft amendment proposed that a gasoline quality standard should be established and matched with the country's restriction requirements for major pollutants, and oil refining enterprises must observe the criteria in their production.
For instance, some environmental protection indicators have set too high a ceiling for permitted content of olefin and arenes in gasoline, major contributors to PM2.5. A report from the National People's Congress Law Committee said the bar should be up a level to address the root causes of automobile pollution.