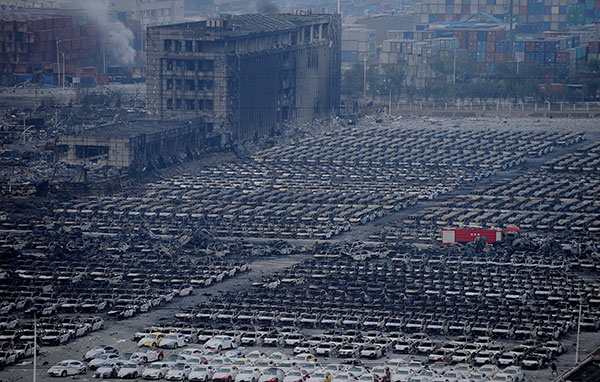 Burned-out cars at Port of Tianjin. Toyota Motor Corp is looking at diverting shipments to Dalian and Shanghai ports from Tianjin, China's main car import terminal, where operations have been indefinitely disrupted after the blasts which killed at least 114 people last week. [Chen Liang / For China Daily]
Auto firm eyes Dalian, Shanghai as possible new locations
Toyota Motor Corp is looking at diverting shipments to Dalian and Shanghai ports from Tianjin, China's main car import terminal, where operations have been indefinitely disrupted after the massive explosions last week, according to a senior Beijing-based company executive.
Research firm IHS Automotive estimated it could take at least a couple of months for normal port operations in Tianjin to resume, and other automakers such as Volkswagen AG and Bayerische Motoren Werke AG have also said they have made moves to switch to Shanghai and other ports.
The senior Toyota executive said that the Shanghai and Dalian ports should have enough capacity to prevent a severe logistical problem for the Japanese automaker in the world's biggest auto market.
"Port of Tianjin will likely be unusable for a long while, although I have no idea at the moment how long these disruptions would last," the official said, declining to be named as he was not authorized to speak with the media.
A company spokesman in Japan confirmed Toyota was considering rerouting cars to other ports.
Huge explosions ripped through Tianjin port on Aug 12, killing at least 114 people. Investigators have not determined the cause of the blasts at the world's 10th largest port, the gateway to China's industrial northeast.
Shanghai port's sole auto terminal could see a 10 percent increase in car volume over normal levels based on queries it has been receiving from clients, said a marketing department official at Shanghai Haitong International Automotive Terminal Co Ltd.
China imported 1.4 million cars in 2014, according to customs data. The Shanghai terminal alone has an annual capacity of 2 to 3 million, said the official, who declined to be identified.
"We are only a temporary solution to the difficulties in Tianjin," he said. "We cannot be a substitute for Tianjin. After this, Tianjin will definitely continue to hold onto its dominant position."
Toyota's two final assembly plants near Tianjin port suspended their operations from Monday to Wednesday, in part to assess the damage from the blasts. Toyota produced 432,340 vehicles at the two plants last year, according to IHS. It estimated a production loss of 2,200 cars per day as a result of the explosions.
The port accounts for about 40 percent of China's imported cars, the research firm said.