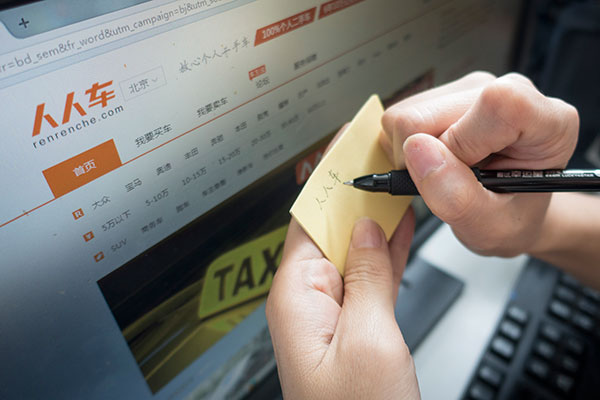 A customer browses on renrenche.com, the emerging used car trading website in China. [Kuang Linhua / China Daily]
Used car trading website renrenche.com announced this month that it raised C round funds in April, a year after it was established, to became the fastest fundraiser while its peers spent years gaining A round funding.
The $85 million investment was led by Internet giant Tencent Holdings and the company now has an estimated value of $500 million.
The investment was made in April, but announced after renrenche.com expanded to 20 cities at the end of July.
Li Jian, founder and CEO of renrenche.com, said, "The company is forging an online 4S showroom for second-hand cars, and making the deals more transparent and effective. The company will expand to more cities and provide higher standard services."
Renrenche, founded in 2014, aims to help car owners and buyers meet. It is not the first or the largest player in the field, but claims to be the fastest in receiving funds. Renrenche said it only lists cars that are less than six years old and with less than 100,000 kilometers on the clock and only accepts cars from individual owners.
The website makes money from the 3 percent commission it charges on every deal. Its monthly trading volume grew to more than 3,000 vehicles in July from about 1,000 in April, and the company expects to hit more than 10,000 monthly auto trades by the end of this year.
Another used car trading website Cheyipai.com lists a larger amount of cars from car owners and independent used car dealers and sells mainly to used car dealers. Cheyipai, founded in 2004, raised its A round funding in 2011 and its $110 million D round funds in February this year.
Market potential
Ministry of Commerce data showed that about 7 million pre-owned cars were traded last year and the volume this year is estimated to reach 10 million.
The Chinese market saw 23 million vehicles sold last year, among which 19.7 million were passenger cars, according to industrial data.
Marco Hecker, Deloitte China automotive consulting practice managing partner, said, "By the year 2020, the used car market will have the same sales volume as the new cars."
"The next level of the used car market will be that a customer may order a used car on his or her specific demands, and the platform will use customer data to find a suitable used car to match the demands," Hecker said.