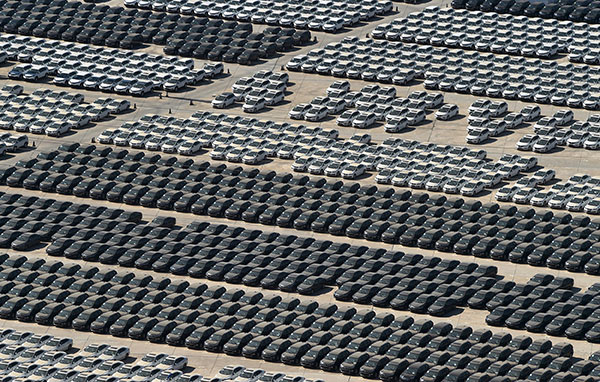 New vehicles are seen in a parking area of an automobile factory in Wuhan, Hubei province. [Zhou Chao / For China Daily]
Auto dealers in China have been having a hard time cutting their inventory levels amid sluggish sales in the world's largest auto market.
The vehicle inventory alert index composed by the China Automobile Dealers Association stood at 53.4 percent in July.
The index is based on a survey of more than 1,000 authorized stores in China that sell vehicles of 55 brands, both Chinese and foreign.
Though a 12 percent fall from June, the inventory has been above the alert level of 50 percent for 10 consecutive months.
The fall is because of two major reasons, according to the association. Customer demands rose slightly in July from the previous month and dealers purchased fewer cars in the month as some automakers have not come up with remedies for poor sales since the start of the year.
Several carmakers, including BMW and Jaguar Land Rover, have voiced greater support for their dealers. Reports said financial incentives are being discussed to tide them over the hard times.
China's auto industry has been experiencing a major slump in sales growth. Vehicles sold in the first half of the year totaled merely 11.85 million units, a meager 1.4 percent growth year-on-year.
Under such circumstances, it is unavoidable that a slew of dealers will quit, said Wang Yi, a representative of the China Auto Dealers Chamber of Commerce.
He said many auto dealerships in Shandong and Henan provinces have shut down this year.
Some automakers are cutting their production or sales targets to alleviate the suffocating pressure on dealers. Chinese media said Beijing Hyundai has scaled down its production volume by 10 percent and Audi has lowered its sales goal to 580,000 units from 600,000 units.
Things might improve a little in August as regional autumn auto shows begin, with discounts offered to attract customers, said Lang Xuehong, an official at the auto dealers' association.
Despite the possible change for the better, Lang said that in the long run, dealers should adjust their business model to ensure profits as the age of rapid sales growth of previous years has passed.
Some industry experts recommend dealerships expand their business in after-sales service, second-hand vehicles and financial services to diversify their sources of profit.
It has also been suggested that dealerships distinguish their services from those available from Internet companies who have been making inroads into the auto industry to sell car sales online and offer door-to-door car maintenance.