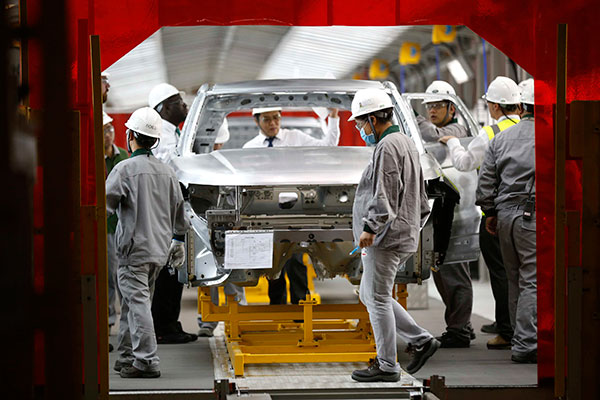 The auto sector has slowed its pace after several years of rapid growth. [Photo/China Daily]
China auto association downgrades growth rate
China's vehicle sales plunged deeper in June, forcing the country's leading auto organization to slash the industry's estimated growth rate.
Statistics from the China Association of Automobile Manufacturers show that vehicles sold in June fell 5.3 percent from May to 1.8 million units, the smallest monthly sales in a four-month period. Sales in June were also a 2.3 percent dip from the same period in 2014.
Vehicles sold in the first half of the year totaled 11.85 million units, a meager growth of 1.4 percent from the same period a year earlier, which stands in stark contrast to 8.4 percent growth year-on-year in 2014.
The CAAM expects auto sales this year will grow 3 percent from 2014. It estimated at the start of this year the growth rate would reach around 7 percent.
Dong Yang, secretary-general of the association, said the sluggish performance in the auto market is the result of both downward economic pressure in China and people's enthusiasm for the stock market in previous months.
He said 2015 will not be a bumper year for automakers but added that he is optimistic about the industry in the long run.
"I don't think the Chinese market has become saturated. Car ownership per 1,000 people in China is still far lower than in developed countries like the US. And in many smaller cities and towns, motorcycles and electric tricycles are playing the role of cars," Dong said.
He suggested that, now while auto sales are not good, it might be a good time for the government to enhance their supervision and for carmakers to improve their products.
Many automakers started nationwide price-cutting campaigns in April to boost sales but the results have not been as good as expected.
Sales of passenger cars in June were 1.51 million units, a 6.1 percent fall year-on-year. The number of passenger cars manufactured in the month fell 5.3 percent from the same period a year earlier.
Chen Shihua, director of the information office at the CAAM, said it was the first time that both monthly sales and production had fallen since December 2008.
Things could have been even worse if SUV sales had not rocketed, Chen said. In June, nearly 450,000 SUVs were sold, a 37.8 percent rise year-on-year.
Cars, MPVs and crossovers saw their sales fall by 0.6 percent to 22.5 percent each from the same period last year.