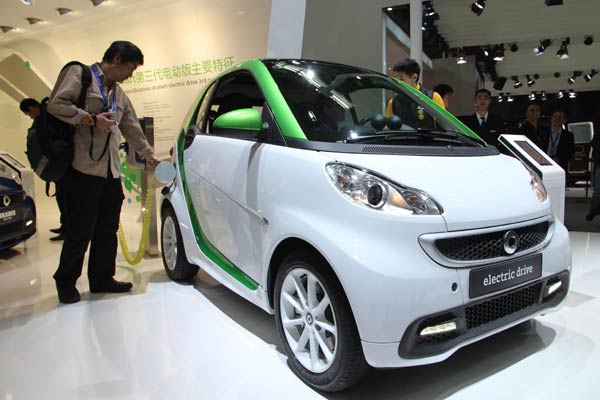 A new electric car is on show in Beijing. The future looks bright for electric cars in China amid rapidly fluctuating gasoline prices and huge investments by the government to promote use of clean energy.[Provided to China Daily]
A national technology committee has begun working this month to create industrial standards for mini electric vehicles, a market that is experiencing a rapid growth in sales in China.
The China Technical Standardization Committee on Mini-Size Electric Vehicle, established on July 5, is aiming to finish a draft on the standards as well as discussions and evaluations this year. The committee said it will launch the standards in June next year, although they will be voluntary and not compulsory regulations.
Mini pure electric cars have become popular in many second- and third-tier cities, townships and counties. More than 300,000 mini pure electric cars were sold last year, more than four times the sales number for larger new-energy vehicles.
Many of the mini electric cars are priced cheaper than 50,000 yuan ($8,200). Two mini electric car models are eligible for government subsidies this year; no models received that benefit last year.
About 36,300 units of pure electric passenger cars, not including mini electric autos, were manufactured in the first six months of the year, three times more than in the first half of 2014.
There are also imported products in the mini electric car sector. Though bigger than low-end domestic ones, they offer a premium ride at much higher prices. The imported Volkswagen E-Up! costs more than five domestic mini electric cars, while the BMW i3 costs as much as nine domestic mini electric cars. Renault is also planning to ship its mini electric model to China.
The upcoming standards are set to divide mini EVs into three- and four-wheel sectors; two categories of passenger and freight vehicles; and three types of above 80 kilometers per hour, below 50 km/h and between 50 to 80 km/h.
The Ministry of Industry and Information Technology's update on the Made in China 2025 strategy released in May requires all electric cars to have a top speed faster than 100 km/h. The State Council's new energy vehicle industry development plan issued in June 2014 had the same top speed requirement.
The committee charter requires final voting rights on the standards to cost 20,000 yuan on one item.
The committee will also organize a better nationwide after-sales service network.