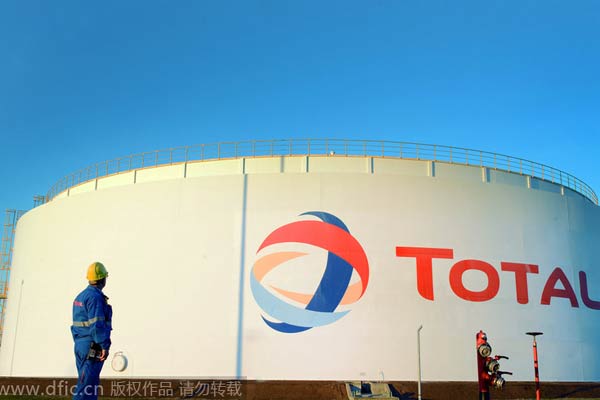 An employee of the Total oil refinery stands in front of a large tank with the company's logo in Leuna, Germany, March 12, 2014. [Photo/IC]
One of the world's leading integrated oil and gas providers, French company Total SA also puts heavy effort into helping promote cleaner, more efficient mobility in China, the world's largest automobile market and energy consumer.
"Sustainable mobility goes hand-in-hand with energy efficiency. Our mission is to supply energy to help people achieve this goal, from well to wheel," said Thierry Pflimlin, senior vice-president for corporate affairs, marketing and services at Total.
"For Total, giving as many people as possible access to energy means providing products and services that allow our customers to benefit from more efficiency while consuming less energy."
He said he strongly believes that the company's "commitment to better energy" program fits China, an emerging country facing energy and environment challenges.
Pflimlin made the comments last month in Chengdu, Sichuan province, when he participated the 12th Challenge Bibendum, an international symposium on developing technologies for sustainable road mobility.
The oil giant also brought a concept car, the Peugeot 208 Hybrid FE, in partnership with the French automaker to the event.
"Succeeding in creating a full petrol hybrid motor without a plug-in energy source that uses less than 2 liters for every 100 km-to be precise, 46 g/km-without making concessions in power was quite a feat and testifies to the company's commitment to collaborating on sustainable mobility projects", said Pflimlin.
"All of our innovations here contribute to reducing fuel consumption," he added. "We are committed to making energy that's cleaner, more efficient and accessible to the greatest possible number of users."
According to Pflimlin, Total Excellium fuels sold in its retail networks keep the engine-and in particular, injectors-clean, which both of increases the engine lifespan due to more efficient combustion and cutting fuel consumption and emissions. "It helps save 3 to 5 percent," he said.
Total has also developed a wide range of fuel-economy lubricants for both light vehicles and trucks.
"Our high-tech lubricants can reduce engine friction to lower fuel consumption as well as pollution," said Pflimlin. "Total's lubricants are highly recognized by the Chinese government and consumers."
As China's retail fuel market is not yet open to foreign companies, Pflimlin told China Daily that the company has high expectations for surging demand for high-end, efficient lubricants in the country.
"During the past five years, our lubricant business increased at an average of 10 to 15 percent, and seeing the potential, we opened the third blending factory in Tianjin last year," said Pflimlin.
"The market momentum makes us confident of doubling Total's lubricant sales in China over the next 10 years."
Other than the efforts on the energy side, Pflimlin also introduced Total's contribution to weight reduction of vehicles, which also means the support to lower energy consumption.
"Total Polymer Solutions is a major supplier of polyethylene for the automotive industry for use in fuel tanks as well as of polypropylene for parts used both inside and outside the car," he said. "The innovations have resulted in vehicles shedding more than 80 kg which works out as 8g less CO2 emission per km."
The weight issue is even more vital for electric vehicles that have to offer maximum autonomy and minimum battery weight, Pflimlin said. "If we look at the BMW i3 for example, the use of new materials has resulted in a weight reduction of 200 kg. As the supplier of various polypropylene body parts such as wings, doors, the hood and spoiler, Total played a significant role in achieving this."