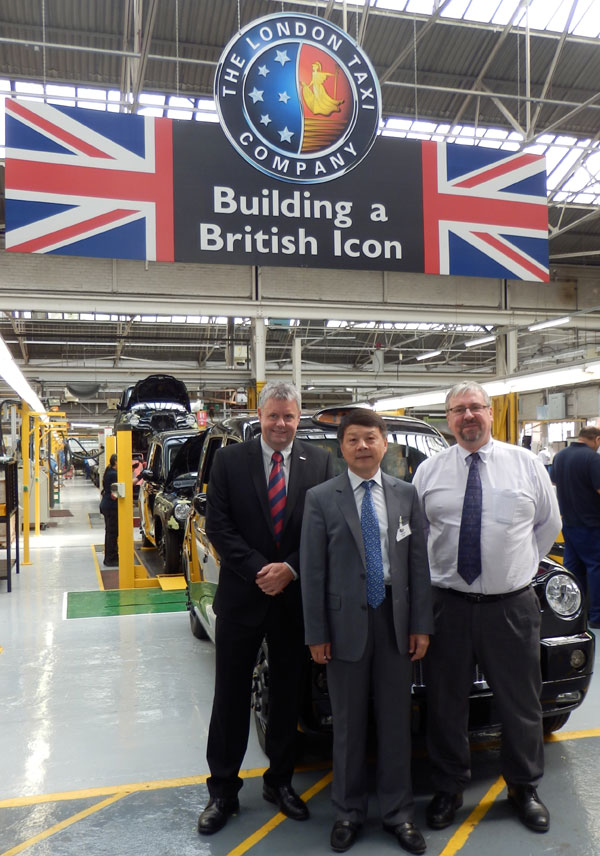 Minister Counsellor, Zhou Xiaoming (middle) visits London Taxi Company in Coventry in late July. [Wang Mingjie/China Daily]
Green car plans and investment help rejuvenate Coventry's auto credentials, Zhang Chunyan reports in London.
The iconic black cabs of London may soon be the harbingers of a "green revolution" in the United Kingdom, thanks to the concerted efforts of a Chinese company.
Green shoots have already started sprouting in Coventry, a city in the county of West Midlands in the UK, where the local economy has a new lease of life thanks to the investment, jobs and green car plans announced by Chinese automaker Geely Automobile Holdings Ltd. Other Chinese companies are also adding new vigor and jobs to the region, often described as the center of auto activity in the UK.
Chinese companies that seek to expand both their global reach and knowledge base see having manufacturers based there as a good strategy for development.
Geely paid 11 million pounds ($18.4 million) for 80 percent of Manganese Bronze HoldingsPlc, the parent of London Taxi Co, the firm that makes the iconic black cabs, in February 2013 after buying 20 percent in 2006. Seven months after the Manganese Bronze acquisition, Geely has commenced full production of the black cabs at London Taxi Co's old factory in Coventry.
London Taxi Co is scheduled to launch its TX5 model with an investment of 300 million pounds soon. The hybrid electric taxi is designed to have zero emissions, with its exterior in a similar shape to the current London black cab.
Peter Johansen, vice-president of Geely's black cab operation, said the company now possesses the requisite funds and the capabilities to improve the green credentials of its existing vehicle.
London Taxi Co currently employs 211 people, more than double the number it had before the Geely buyout. Of its current staff, 66 are engineers and technicians.
"We have not finalized our staff plans for next year, but I expect that we would employ around 250 directly or indirectly with further increases as we begin building and ramping up our new factory," Johansen said.
Daniel Li, chairman of the London Taxi Co and chief financial officer of Geely Group, said: "We will stick to our plans and deliver what we promise."
Sales revenue has risen steadily since the acquisition. Sales in 2013 reached 33.9 million pounds, and the figure was 25.3 million pounds for the first six months of 2014, a 245 percent year-on-year growth. The plant is scheduled to build 1,440 vehicles, mainly to be sold in the UK. In addition, about 850 vehicles will be made for overseas markets in Azerbaijan, Australia, Egypt and India.