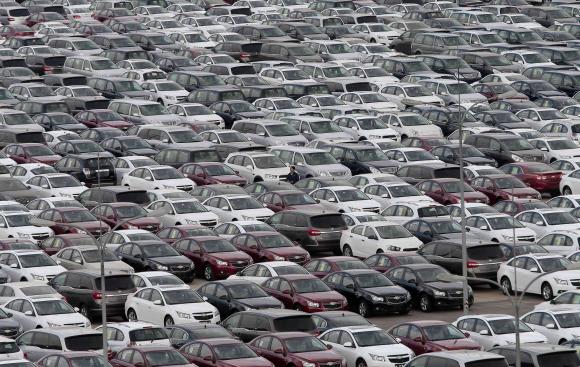 An employee yawns as he walks among General Motors' new Chinese-made cars at a parking lot in Shenyang, Liaoning province April 21, 2014. [Photo/Agencies]
In a country where owning a car has long been a symbol of luxury and success, around 85 percent of Chinese car buyers still buy cars with cash.
But people like Chinese accountant Grace Mi and her peers in their 20s and 30s are changing the car financing game and are the ones catching the attention of global carmakers looking to boost revenue and defend margins in an increasingly competitive market.
These young people are willing to buy big-ticket items like a car on credit - a behavior unheard of some 15 years ago in China - and have led carmakers to boost their financing units in the mainland.
The push by automakers to steer more people to buy on credit comes as part of their broader efforts to make up for sliding margins on new-car sales in China where more companies are cutting prices to entice buyers. Other key revenue sources include maintenance and repairs, vehicle leasing and sales of accessories and parts.
Mi, a 27-year-old accountant in Beijing, did not have enough cash on hand to outright buy her dream car, a Nissan Sylphy, with a price tag of about 150,000 yuan ($24,200). Instead, she saved enough money for a down payment and took out a loan.
"I didn't want to take a penny from my retired parents," Mi said, adding that owning a car had become increasingly important for her personal and work life. "I didn't have to wait for years to own a car."
Mi has been repaying 2,500 yuan, or one-fourth of her monthly wage, since November for her Sylphy. While the loan payments are not small, she says she doesn't feel burdened.
"Accountants are needed everywhere so I'm not worried about job security. I don't think I am enslaved by the car loan."
Moving to credit
Around 70 percent of car buyers in the United States and other developed countries take out loans, according to a Deloitte report in 2012 and the reason global carmakers are trying to seize on the rise in auto financing in China is because the sector is highly profitable.
The financing unit of Ford Motor Co contributed nearly a quarter of the Deerborn, Michigan-based company's overall profit last year while rival GM saw 12 percent of its profit come from its finance unit.
"China's car market remains primarily a cash market, but it is starting to move to credit," John Lawler, head of Ford's operations in China, told Reuters in an interview. "It's a demographic and generational phenomenon. Those people who finance cars are primarily younger buyers."
China's central bank gave the sector a boost in early June when it cut the amount of money auto financing firms need to set aside as reserves in a bid to stimulate the economy which is showing signs of slowing.