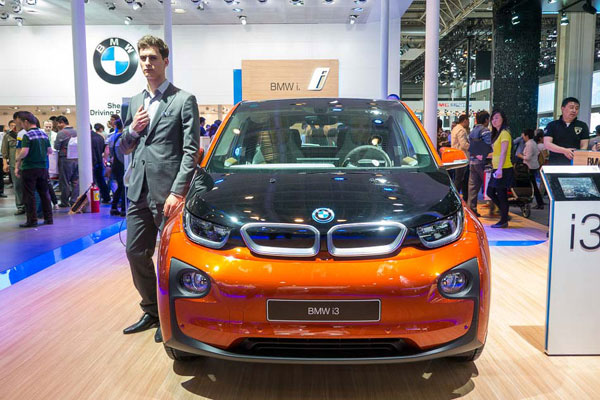 A BMW i3 is displayed at the 13th Beijing International Automotive Exhibition, also known as Auto China 2014, in Beijing, China, April 20, 2014. [Hao Yan/chinadaily.com.cn]
BMW will start delivering imported electric cars in China in September, with pre-orders indicating short supplies in a market that could become the world's biggest for green vehicles, China president Karsten Engel said on Wednesday.
The German premium automaker will sell its all-electric powered BMW i3 sedan and plug-in hybrid i8 sports car in four Chinese cities initially, with a sales cap of 1,000 vehicles this year, Engel said. The i3 starts at 450,000 yuan ($72,000), cheaper than some had expected.
"There are many more customers than supply," Engel told reporters in Shanghai, where BMW launched a project to build charging facilities with State Grid Corp of China and Expo Shanghai Group.
Engel declined to say how many pre-orders the company has received in China for the i3 since the model was unveiled at the Beijing auto show last month, but said more than 28,000 people have requested a test drive in a sign of public interest.
Munich-based BMW competes with rivals including Tesla Motors Inc, Volkswagen AG and Daimler AG in selling electric cars in China's slowly developing market for environmentally friendly vehicles.
China has set an ambitious target of putting 5 million electric or plug-in hybrid vehicles on the country's roads by 2020, part of Beijing's efforts to fight pollution and reduce reliance on oil imports.
"I personally would assume that in less than five years, China would be the largest market for electric mobility," Engel said.
Tesla launched its luxury Model S in China earlier this year, Daimler and Chinese carmaker BYD Co Ltd will start selling the Denza electric car this year and Volkswagen plans to sell more than 15 green vehicle models in China by 2018.
Initially launched in Europe toward the end of 2013, the BMW i3 is made in Germany out of carbon fiber and aluminium and has a range of around 160 kilometers. It was introduced in April in the United States, retailing for a suggested price of $41,350.
The i3, which will be sold in Shanghai, Beijing, southern Shenzhen and northeastern Shenyang, is cheaper than Tesla's Model S which starts at 648,000 yuan ($103,874) in China.
Through its joint venture with Brilliance China Automotive Holdings Ltd, BMW has also launched an electric vehicle in China, the Zinoro, which for now is only available for rent.