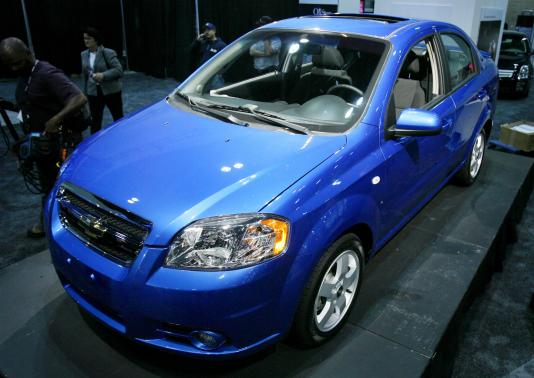 The 2007 Chevrolet Aveo makes its global debut at the 2006 Los Angeles Auto Show in Los Angeles, California in this file photo taken Jan 5, 2006.[Photo/Agencies]
General Motors Co is recalling more than 284,000 older Chevrolet small cars in the United States and other markets because of a potential fire hazard, bringing US recalls at the automaker this year to 29 and a record number of vehicles.
The two recalls are the latest announced by GM, the largest US automaker. The recall with the highest profile was of cars with defective ignition switches linked to at least 13 deaths. The Detroit company has been criticized by safety advocates and fined by US safety regulators for its delayed response in catching the faulty switch.
A day after recalling 2.6 million vehicles globally, most of them in the United States, GM is recalling 284,913 Chevrolet Aveo and Optra cars in the United States and other markets from model years 2004 to 2008. The problem with the cars stems from a faulty part in their daytime running lights that could overheat and cause a fire, according to documents filed with the National Highway Traffic Safety Ad
mini
stration (NHTSA).
GM said it was aware of some fires related to the problem but did not say how many. It said there were no reports of injuries or fatalities.
Meanwhile, GM Chief Executive Mary Barra met on Wednesday with Democratic Senator Claire McCaskill of Missouri, who chairs a Senate panel investigating GM's ignition switch recall, as well as other Democratic lawmakers including Senator Charles Schumer of New York, Senator Edward Markey of Massachusetts, Representative Diana DeGette of Colorado and Representative John Dingell of Michigan.
McCaskill spokesman Andy Newbold said Barra gave the senator an update on GM's progress on its internal investigation, which the company expects to complete within two weeks. He added that the senator still intends to hold a follow-up hearing after GM's internal probe is complete.
GM also said North American general counsel Lucy Clark Dougherty is now advising global vehicle safety chief Jeff Boyer on legal issues in a move to speed up the process around recalls. But the company downplayed speculation about a larger overhaul of its legal department and said general counsel Michael Millikin has been asked to remain in his position.