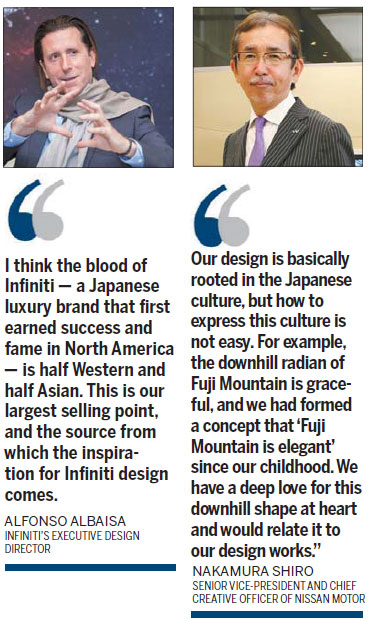 Nakamura Shiro, senior vice-president and chief creative officer of Nissan Motor - Infiniti's parent - also said he shares Albaisa's opinion on the brand's design language at the Geneva motor show.
"Our design is basically rooted in the Japanese culture, but how to express this culture is not easy," he said. "For example, the downhill radian of Fuji Mountain is graceful, and we had formed a concept that 'Fuji Mountain is elegant' since our childhood. We have a deep love for this downhill shape at heart and would relate it to our design works.
As an Asian company, Infiniti tends to focus on the finer points of design, Shiro said.
"In choosing colors and body curves, we try to focus more on details. This is what Eastern people are good at. We should exert our strength in this field," he said.
Partly due to its unique design, Infiniti has become increasingly popular in China.
In January this year, Infiniti sold 2,365 units in the country, surging 161 percent year-on-year and setting a new monthly sales record, the company announced.
Its February sales reached 1,586 units considering the sales period shortened by the traditional Spring Festival holiday but still increased 218 percent from the same period of last year.
January sales of the popular sporty G series rose 131 percent year on year, and the well-received QX50 SUV increased 162 percent. The two models drove Inifiniti's February sales as well, according to the company.
In 2014, the brand will introduce six models to the Chinese market. In addition to the imported Q50 and its locally made long-wheelbase version, the rest will be the QX60 hybrid, the new QX80, the long-wheelbase QX50 and a compact crossover.