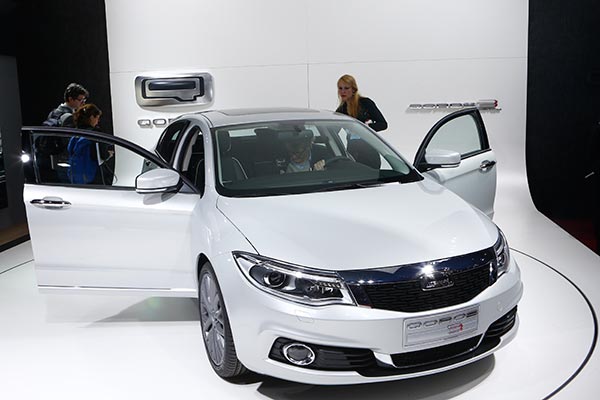 Qoros 3 car is pictured during the media day ahead of the 84th Geneva Motor Show at the Palexpo Arena in Geneva. [Arnd Wiegmann / Reuters]
The newest arrival on the scene among independent Chinese auto manufacturers, Qoros made a second appearance at the ongoing Geneva Motor Show, with the world premiere of its second production model the Qoros 3 Hatch.
A 50-50 joint venture established in 2007 by China's Chery, and Israel Corp - the largest holding company in its namesake country, Qoros attended the Geneva show last year for the first time.
"The bigger exhibition area and prime position (between Maserati and Rolls-Royce) indicated that Qoros has received recognition from the show organizers," said Guo Qian, chairman and CEO of the company based in Changshu, Jiangsu province.
Last year, Qoros made the global debut of its brand and its first production model, the four-door compact Qoros 3 Sedan, along with two concepts - the Qoros 3 hybrid and Qoros 3 estate, at the Geneva show.
It is aimed at competing with similar models from Volkswagen and Toyota.
Compared with the Qoros 3 Sedan, "the Hatch will appeal to the modern metropolitan customers," said Vice-Chairman Volker Steinwascher.
"It offers those with active outdoor lifestyles or young families extra practicality, combined with added coolness thanks to its more spirited, sporty look."
Admitting that Qoros mainly focuses on the China market, he said "we want to make it a true international brand so that we bring it to Geneva facing European media and customers, which are among the most critical".
According to Qoros, the model is being designed and engineered by an international team of experienced specialists and new, young automotive talent, which deeply understand the requirements of its target audience - the discerning young customers in China and Europe.
The Hatch is based on the same modular platform as the Sedan. However, the Hatch features new C-pillars, roof, rear-side panels, and tailgate, plus a new rear roof to maintain an exceptional torsional rigidity.
Using the same high-strength steel and structural design that helped the Sedan win the "safest car of 2013" title from Euro NCAP, the Hatch has the same wheelbase, width and height, but the overall length has been reduced by 177mm.