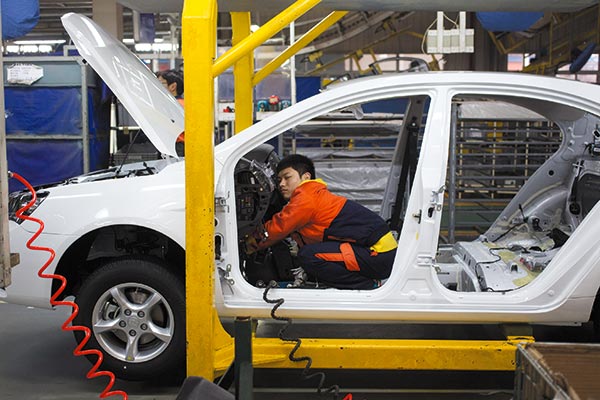 Pictured here is an assembly plant of Zhejiang Geely. Far weaker than the giant State-owned companies in their early stages, private car companies like Geely claim that the 50 percent cap on foreign ownership of joint ventures has hurt their ability to find partners from abroad. [Gao Erqiang / China Daily]
Ministry of Commerce still weighing pros and cons
A fierce debate is raging among auto industry insiders over a measure proposed by the Ministry of Commerce last year that would allow foreign partners in a joint venture to hold more than a 50 percent stake.
The ministry announced in November that industries like automotive and steel will be further opened to foreign investors, hinting that it may lift limitations on foreign share holdings in automotive joint ventures in the near future.
The cap on foreign holdings was put in place two decades ago, when the Automotive Industry Development Policy prohibited foreign companies from holding more than half of a joint venture with a Chinese company.
The Automotive Industry Development Policy released in 2004 retained this cap.
Now that China has emerged as the world's largest auto market by sales, more and more foreign automakers are eyeing its potential and seeking a greater piece of the pie.
The limitations were set as a protective measure for the nation's fledgling domestic automotive industry, which at the time was represented by mostly State-owned manufacturers.
As more private capital is flowing into the market and independent domestic automakers are becoming bigger and stronger, many local brands see something to be gained in partnering with foreign companies and require more flexibility in capital markets.
During the ongoing sessions of the National People's Congress and the Chinese People's Political Consultative Congress, this issue was brought into spotlight again.
Representatives from the auto industry and government officials held a meeting on the sidelines of the "Two Sessions" to discuss how to boost the industry.
Miao Wei, minister of industry and information technology, said that the 50 percent limit for foreign partners cannot be lifted at present, but he admitted the possibility for a flexible share structure in the near future.
He urged domestic automakers to grow stronger as fast as possible before time is mature for an ease of the limitation.
"We will try our best to give you time to prepare. The ultimate goal is to support our domestic brands and make them competitive enough on a global scale in the process," Miao said.