Supply offers nation more import sources, enhances energy security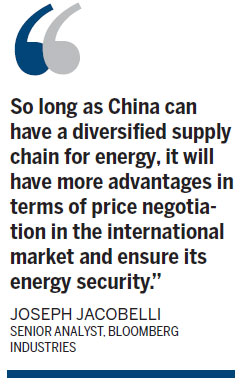 Energy-rich Russia has started delivering crude oil to China as of the beginning of the year after the contract signed between the two countries last June, which will further diversify China's energy import channels, said experts on Tuesday.
Russian state-owned oil giant Rosneft announced last week that it has received an advanced payment from China for oil deliveries starting this month.
"So long as China can have a diversified supply chain for energy, it will have more advantages in terms of price negotiation in the international market and ensure its energy security," said Joseph Jacobelli, senior analyst with Bloomberg Industries.
He said China is smart in the way it is forming an energy import structure that doesn't solely depend on any particular country.
According to Rosneft, the payment was received in two parts, in line with a mutually agreed-upon schedule.
Rosneft and China's State-owned oil giant China National Petroleum Corp signed long-term crude oil supply contracts during the St Petersburg International Economic Forum in June 2013.
Rosneft plans to supply 360 million metric tons of crude oil to China for a period of 25 years, according to the contract, valued at $270 billion in total.
The advance payment totaled $70 billion with a first subsequent payment of $20 billion.
As China's economy continues to grow, the demand for oil will keep increasing.
China National Petroleum Corp Economics and Technology Research Institute estimated that China's oil demand in 2014 will reach 518 million metric tons with an annual growth of 4 percent. The crude imports will reach 298 metric million tons, up 7.1 percent year-on-year.