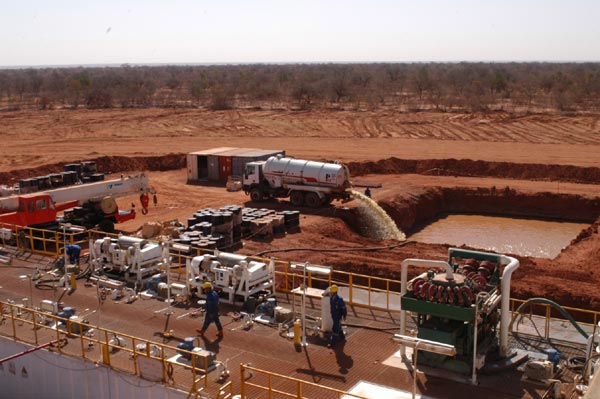 A Chinese oil company helps local enterprises exploit oil in Africa. Provided to China Daily
Africa's biggest oil producer seeks balance between its profits and benefits in emerging markets such as China
As Nigeria's government prepares to implement the Petroleum Industry Bill that will provide "long-term" investment prospects, the country, which is Africa's largest oil producer, should look for more cooperation in the oil and gas industry with emerging markets such as China and India, says a senior government official.
All oil-producing countries, particularly those in sub-Saharan Africa, will have to "re-assess their balance of their exports in oil and gas and should find more emerging export destinations", Deziani Alison-Madueke, the Nigerian minister of petroleum resources, told China Daily after the recent World in 2014 Summit in New York.
"China is already very much involved in the Nigeria oil and gas sector, as it is in a number of other sectors in our economy, so what we expect to see over the next five years with the emergence of the Petroleum Industry Bill is that the scale of Chinese investment - which has been quite good - would increase rapidly," she says.
"China is one of the destinations that we are working with in terms of exports", says the minister, adding that Chinese investors should look to "up the ante" in Nigeria's oil and gas industry.
Chinese oil and gas companies such as China National Offshore Oil Corp and China National Petroleum Corp have investments in Nigeria. The proposed bill, which might reduce the country's oil output by more than 500,000 barrels a day, aims to increase Nigeria's share of profits of oil from its own resources. The bill - which carries higher taxes - proposes to boost the government's share of revenue to at least 73 percent, from the current 61 percent, according to Alison-Madueke.
"The bill will ensure more transparency and accountability and will ensure that investors have much more of a long-term handle on their investment prospects." She also hopes the bill will help boost investment.
Chinese investment in Nigeria totaled $15.6 billion (the highest in sub-Saharan Africa) in 2012, according to the Washington-based Heritage Foundation. Most Chinese investment was in the technology, transport, real estate and energy sectors, with 53 percent in energy-related projects.