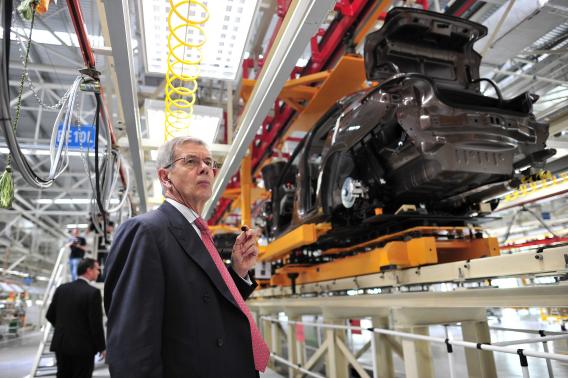 Philippe Varin, chief executive officer of French carmaker PSA Peugeot Citroen, visits the third factory of Dongfeng Peugeot Citroen Automobile company after its inauguration ceremony in Wuhan, July 2, 2013. [Photo/Agencies]  
French automaker PSA Peugeot Citroen received agreement at its board meeting on Sunday night in Paris that the struggling company will "in principle" accept capital investment from the French government and Chinese partner Dongfeng Motor Corp.
The two investors will put a combined 3 billion euros ($4.11 billion) equally into PSA under terms yet to be defined, AFP cited unnamed sources close to the deal as saying on Monday.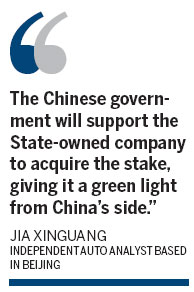 French newspaper Journal du Dimanche also reported that the investment will give French government and Dongfeng Motor a 15 percent stake in PSA, making them major stakeholders.
The company's largest shareholder, the Peugeot family, will also add a 100 million euro investment to maintain its holding in the company.
Analysts said the company is in dire need of investment to weather waning business amid a market slump in Europe since it started to seek a state bailout for its finance arm in 2012.
Furthermore, the spinoff of US shareholder General Motors Co's entire 7 percent stake on Dec 13 through a private placement to institutional investors may accelerate the company's determination to accept the capital boost.
The private placement of almost 25 million shares generated gross proceeds of 250 million euros. However, GM said it still remains in alliance with PSA in Europe.
PSA reportedly hopes to be able to present the outline of a deal with China's second-largest automaker Dongfeng and the French state to investors when it discloses its annual results on Feb 19.
Analysts said the investment will help PSA in new model development as well as market expansion outside Europe, where its automobile market has declined for six years.
Europe's largest automaker, Volkswagen AG, saw its global passenger vehicle sales increase 4.8 percent to 9.5 million in 2013, greatly supported by a 16.2 percent sales surge in China, the world's largest auto market since 2009.