Govt report: Trend evident over National Day holiday
With rates of automobile ownership on the rise nationwide, more and more Chinese people are choosing to drive themselves when on vacation.
Car rental companies also got a boost over the past holiday from the growing numbers of tourists interested in driving themselves rather than riding tour buses or other forms of mass transportation.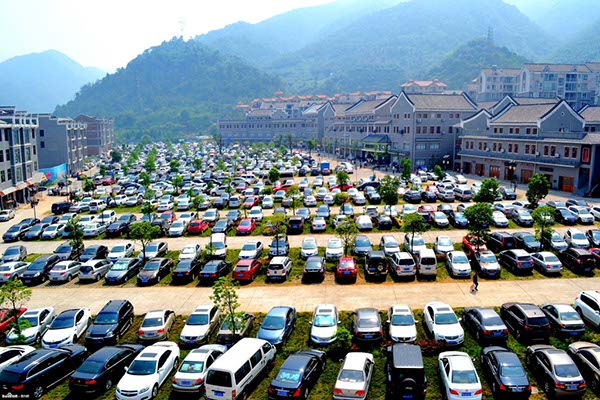 Private vehicles pack a parking lot at Dongjiang Lake in Hunan province during the National Day holiday. Driving tours are becoming increasingly popular with visitors, who prefer the freedom and flexibility it offers. Zi Xing / for China Daily
During the past National Day holiday, Beijing dentist Lei Yue and her husband drove to a forest park in neighboring Hebei province.
They have frequently ventured out of the capital to nearby attractions since buying their first car earlier this year.
"Owning a car has indeed changed my way of travel a lot," Lei said.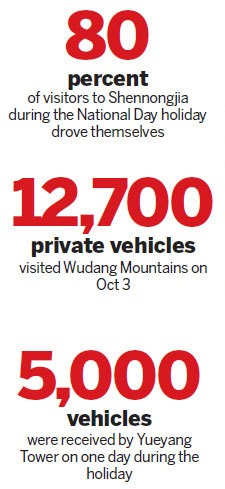 "We used to take public transportation when traveling, but now that we have bought our own car, we mostly drive to places, especially if it is within a few hundred kilometers," she said.
"The best thing about driving yourself is freedom, while taking public transportation could be very tiresome," she said.
Guo Xiaochuan, an employee of a Beijing insurance company, is also a fan of driving tours.
"I love it because I could enjoy the scenery along the way, and I'm free to stop to take photos wherever I feel like," she said.
"On the contrary, traveling with the agencies offers no freedom at all."
Guo took some days off before the past National Day holiday and completed a long drive from Beijing to Shaanxi, Henan, Chongqing, Sichuan, and then back to the capital city.
"To plan a driving tour can be very flexible, but traveling with public transportation usually has a more fixed itinerary because you have to book tickets in advance," she said.
"Economically speaking, a driving tour is not expensive either," she added.
Like Lei and Guo, many Chinese now prefer to travel on their own wheels.
And the trend has been seen in the rising numbers of people choosing this mode of transportation over National Holiday.
'Notable feature'
A report released on the official website of China National Tourism Administration said that a "notable feature" of the tourism market over the National Day holiday was a significant increase in the amount of people driving themselves while on holiday, especially on medium-and short-distance trips.