The all-new 2014 Honda Accord sedan hit the Chinese market on Thursday with the 3-liter V-6 model exclusively made for China, together with the company's new three-year or 100,000-kilometer vehicle warranty.
"The ninth-generation Accord will elevate the industrial standard, and set the new benchmark for mid and high-end cars. It will bring an unprecedented delighted surprise to Chinese customers," said President of Guangqi Honda, Toshiaki Mikoshiba at the car's Shanghai launch ceremony.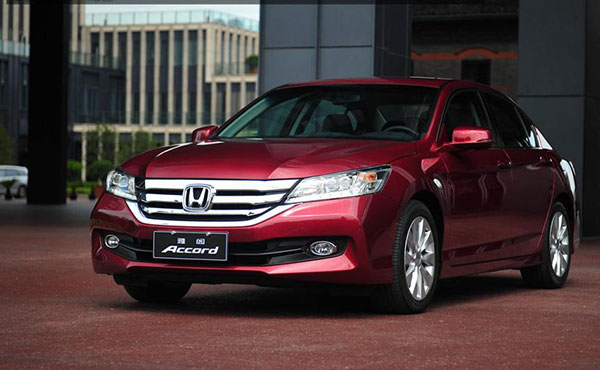 An all-new 2014 Honda Accord sedan is pictured in September 2013. [Photo / Auto.qq.com]
The ninth generation Accord has the first-ever continuously variable transmission (CVT) on its 2-liter and 2.4-liter models, and the six-speed automatic 3-liter V-6 is in accordance with Chinese market demands.
The all-new Accord has been fully redesigned from the ground up to deliver new levels of fuel efficiency and fun-to-drive performance in the midsize segment. The line-up is powered by a wide array of new Earth Dreams powertrains, which includes Honda's next-generation 2.4-liter direct-injected VTEC 4-cylinder engine, and also a more powerful and efficient Earth Dreams 3-liter VTEC V-6.
The new Accord successfully balances fun-to-drive performance with fuel efficiency. The 2.4L i-VTEC engine has a maximum output of 137kW at 6,400rpm and the torque peaks 243 Nm at 3,900 rpm, and lowered its fuel consumption to 7.7 liter per 100 km. The China exclusive 3L VTEC engine's output tops 192kW at 6,300 rpm, and has a peak torque of 297Nm at 5,500 rpm.
"The ninth generation Accord has integrated all the latest Honda technology, and will become an overwhelming line-up among the mid and high-end passenger cars," said Yu Jun, acting deputy general manager at Gaungqi Honda.
The new Accords come with alloy wheels, and standard features which also include a rearview camera, an Expanded View Driver's Mirror, Bluetooth Hands Free Link, USB and iPod integration, Pandora Internet radio compatibility, SMS text messaging capability, dual-zone automatic climate control, and a 160-watt AM/FM/CD audio system.
The world's leading innovative technology is perfectly represented in this latest model. It will continue the Accord family's leading position in China's B-Class market, according to Yu.
The manufacturer's suggested retail price ranges from 206,800 yuan ($33,800) for the 2L EX luxury model, and up to 298,800 yuan for the 3L EXLN flag-ship model.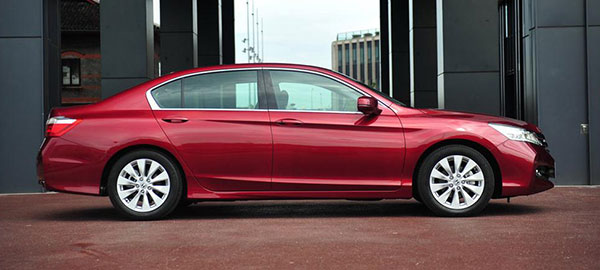 An all-new 2014 Honda Accord sedan is pictured in September 2013. [Photo / Auto.qq.com]