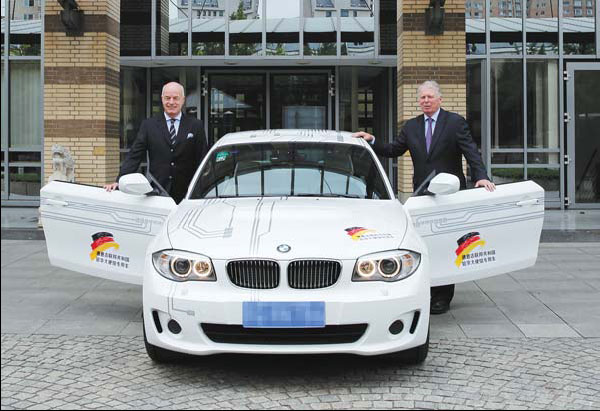 Karsten Engel, president and CEO of BMW Group Region China handed over an ActiveE to German Ambassador to China Michael Schaefer on June 21. [Photos provided to China Daily]
Company testing waters of emerging electric car market
On June 18, 20 Beijing residents selected to participate in the BMW ActiveE Project received the keys to the all-electric car they will be driving over the next year.
BMW Group recently brought the program to China to prepare for the future commercialization of electric vehicles in the country.
The participants in the project are granted the right to use the ActiveE pure-electric cars over the course of a whole year for a monthly lease of 4,200 yuan.
Fifteen users in the southern city of Shenzhen will also get cars at the end of this month to give the company an idea of how the model operates in the city's hot, humid climate, balancing the results from the test in the cooler, drier northern capital.
What's more, BMW delivered an ActiveE to the German Embassy in Beijing on June 21.
Karsten Engel, president and CEO of BMW Group Region China, said at the handover that the BMW ActiveE Project opens a new chapter in the development of "e-mobility".
"We will make concerted efforts with our partners and customers to push forward with the commercialization of electric vehicles, and get fully prepared for the era of e-mobility," he said.
German Ambassador to China Michael Schaefer also lauded BMW's efforts in developing the zero-emission vehicles, saying that since the MINI E China Field Trial Project, the German Embassy has participated in several e-mobility projects launched by the BMW Group and other German automotive companies.
"Sino-German cooperation in electric vehicles is very important for both countries. Germany will continue to actively exchange experience and technology in regenerative energy with China and further enhance close coordination in this future-oriented field," said the ambassador.
The BMW ActiveE Project in China comes on the heels of the carmaker's previous road trial of the MINI E.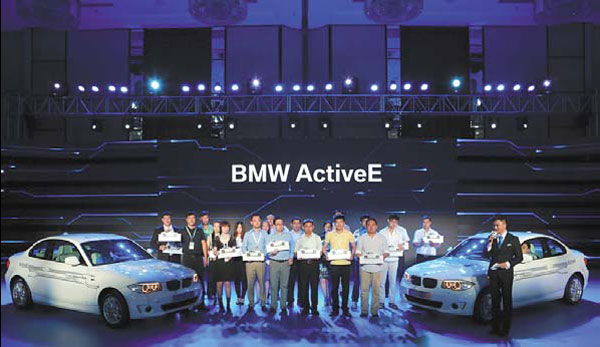 Twenty participants in the BMW ActiveE Project in Beijing received their keys at a ceremony on June 18. [Photos provided to China Daily]
In 2011, BMW brought its electric version of the MINI to China to study the car's performance and customer acceptance and driving behavior in real life situations.
A total of 50 customers then, also from Beijing and Shenzhen, joined the 10-month MINI E trial.
Compared to the previous trial for the MINI E, in which participants were allowed to use the car for free, the BMW ActiveE Project could paint a better picture of the real potential for electric models to gain market acceptance, according to the company.
Also, unlike the two-seat MINI E, the BMW ActiveE has four seats and a bigger luggage area, making it more practical in daily use for families, according to the company.