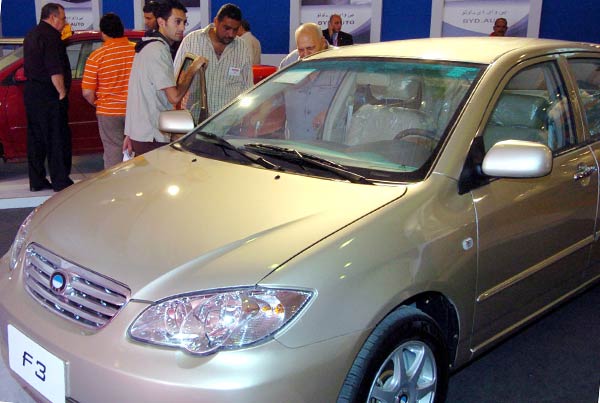 A BYD sedan at an auto show in Cairo, Egypt. This year, the company expects to deliver 8,000 to 10,000 vehicles in Egypt. [Lin Yiguang / Xinhua]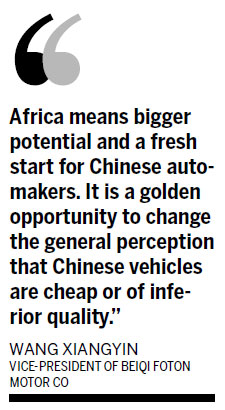 Companies hope to offset tough conditions elsewhere by making inroads in the growing market, reports Wang Chao.
Like most people in Africa, Cisse Ouattara, an automobile dealer, had never heard of Beiqi Foton Motor Co, or seen the trucks that the Chinese company is best known for, until a few years ago.
But nowadays, it would not be surprising to see the Cote d'Ivoire dealer interspersing his sales pitches with interesting tidbits about China and the Beijing-based truck maker.
Like Foton, several other Chinese automobile companies are now pinning their hopes on Africa to offset slowing conditions at home and elsewhere in the world.
Africa is still virgin territory for most Chinese automakers, and these companies are coming up with unique marketing strategies to make inroads into the price-conscious, but growing African auto market.
Wang Xiangyin, vice-president of Foton, said that Africa offers opportunities as well as challenges.
"Africa means bigger potential and a fresh start for Chinese automakers. It is a golden opportunity to change the general perception that Chinese vehicles are cheap or of inferior quality," he said.
There is no doubt that Foton has already enjoyed considerable success in Africa. Backed by its team of hard-talking sales professionals like Ouattara, Foton has become the leading Chinese automobile exporter to Africa. Last year, the company shipped over 20,000 vehicles to the continent, including vans, pick-ups and light trucks.
In the next stage of its operations, Foton will start assembling vehicles locally in Africa by using the completely knocked-down kits imported from China. Wang said that this strategy will help the company boost sales as it provides a way to avoid the high tariffs on imported cars in nations such as South Africa, Algeria and Egypt.
Foton has divided its global market into three categories: mature markets such as Europe, the United States, Japan and South Korea; young markets such as Africa; and everything in between as emerging markets, like Russia and Brazil.
"Africa is also a unique advantage for us as most of the African countries enjoy good relations with China and the local people trust Chinese partners. Consequently we face fewer trade barriers in Africa."