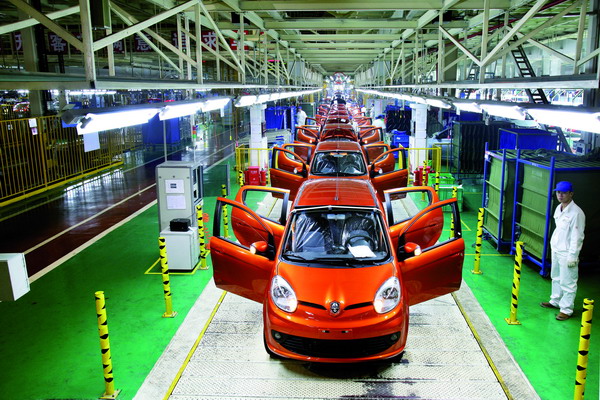 Changan Automobile expects to generate 5 percent of its overseas revenue from the US and Europe by 2017. [Photo / China Daily]
Forced to look abroad, the Chongqing automaker is hoping its latest sedan sells well
Amid the dazzling cars and models at the Frankfurt Auto Show in September 2011, the Changan Sense concept sports car caught attention for its sleek, curvy lines, aggressive body frame and its affordable price tag.
At the show, the buzz question was "What is Changan doing with this?" Few companies in China can match Chongqing Changan Automobile Co Ltd, one of the largest domestic auto manufacturers, in terms of affordability, but it had yet to crack the overseas markets despite aspirations to become a mid to high-end maker of cars.
This month, Changan is coming out with its response in the form of the Raeton, a mid-end, four-door sedan that will sell for 180,000 yuan ($28,926) in the United States and Europe to compete against other large family cars such as the Volkswagen Passat.
"Till now, most of our vehicles were sold in low-end markets across the world. The Sense and the Raeton represent our ambitions and attempts to move into the high-end market," says Zhu Huarong, vice-president of Changan who is in charge of the company's overseas business.
"Moving to the high-end world" is what many of China's automakers call looking abroad, where it has an easier chance of selling its cars because of rising competition in their home market, the largest in the world. The nation's auto market is slowing, however, with domestic passenger car sales rising less than 7 percent last year.
Jia Xinguang, an independent auto analyst in Beijing, says due to overcapacity in China's automobile industry and decreasing demand, automakers are being forced to look overseas.
"The competition in China's automobile industry is kind of a global war, and grabbing market share from overseas regions is necessary for domestic automakers," Jia says.
To gain a foothold in overseas markets, Changan is preparing for big things, such as introducing its Raeton model.
"Changan aims to be the best automobile company in the world. So far, our major overseas markets are Africa and Southeast Asia. To become a global automobile giant, it is important for us to expand our presence in developed nations and make mid and high-end vehicles," says Zhu from Changan's headquarters in Chongqing municipality's Jiangbei district.
He says the company expects its overseas markets to contribute about 30 percent of revenue by 2020. Changan expects to capture 5 percent of its overseas revenue from the US and Europe by 2017 with mostly mid to high-end vehicles. Last year, Changan's revenue reached 114 billion yuan, with overseas markets contributing about 5 percent of revenue, and made a profit of 1.6 billion yuan.
Changan is not the only Chinese automaker with its sights abroad. Yin Mingshan, president of the Chongqing Lifan Group, one of the largest automobile and motorcycle makers, says sales in the US and Europe are expected to increase to 20 percent by 2015 from less than 10 percent at present.
Chinese auto analysts are putting up red flags warning that the future of the Chinese auto industry is fraught with risks and difficulties. Many of them, including Jia, say it's very hard for China's companies to enter developed countries since the auto industries there are developed and mature.
"But the emerging markets like Russia and Brazil grant many opportunities for Chinese automobile makers because these customers are not addicted to Western brands," he says.
Zhu, like many of the executives of China's automakers, warns that its overseas market expansion is not going to be easy.
"We decided to expand overseas markets as they offer higher profit margins even though there are stiffer challenges from an appreciation of the yuan, which will affect our exports, and increasing labor costs in the US compared to China. It calls for great efforts from me and the company to achieve success overseas."
He says for the brand to go overseas, two key steps are required.
"We will first enter the less developed overseas markets where brand operation costs are relatively lower compared with the US and EU markets," says Zhu. "After gaining enough brand recognition, we will venture into developed markets such as the US and the EU."
Changan now distributes its products through more than 2,000 of its sales offices across more than 30 countries and regions. The group plans to set up factories in Brazil and Russia this year, Zhu says.
Looking back over his 27 years of experience in the auto industry, he says his most fulfilling moment was seeing Changan produce its own branded cars in 2009.