Reforms stabilize stock markets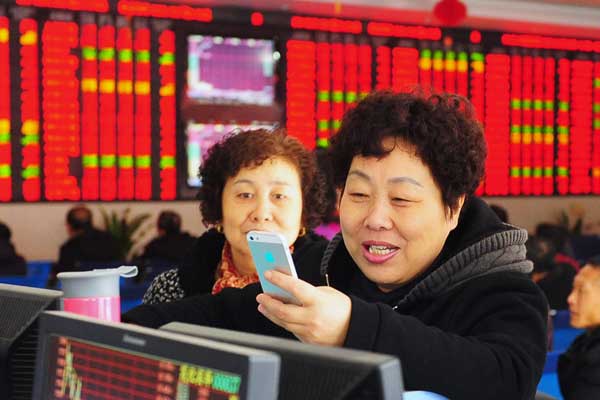 Investors read stock information at a brokerage in Fuyang, Anhui province, on Jan 3. [Photo by Wang Biao/For China Daily]
Investors look at fundamentals and profitability, not speculation
In the first quarter of 2017, deepened reforms are creating opportunities for investors. And, the deleveraged capital market with better regulation and fewer risks will benefit sectors with solid fundamentals, said an analyst.
Policy makers have prudently focused on deleveraging the market and have tightened control over "suspicious capital flows" in order to better regulate foreign exchange remittances and purchases.
They have also further clarified on investments allowed by insurance funds and have cooled down real estate investment in cities with overheated housing markets.
"All of these factors lower investors' risk preferences and encourage them to take a stable approach with more patience," said a research note from Haitong Securities.
"Investors can look at sectors with more certain prospects, such as State-owned enterprises that benefited from institutional reforms, companies helped by the Belt and Road Initiative, and those with improved profits driven by consumption growth. Investors may become more bullish when uncertainties about policies are cleared in the second quarter or later," the note said.
Although economic growth has slowed at the macro level, certain companies at the micro level have been recovering and thriving. A deleveraged market with fewer risks, more transparency and higher standards of compliance brings overall benefits to the A-share market, said economists.
Corrections in share prices in the past few months have brought "buy in" opportunities to investors, particularly in shares of companies with improved profitability driven by supply-side reforms.
These sectors, including agriculture, foods and beverages, public utilities, resources, banking and precious metals, are less impacted by inflation, interest rates and macro environment. They have been supported by strong fundamentals and demand, said Ren Zeping, macro economist with Founder Securities.
Agriculture and foods and beverages usually perform well in the first quarter of a year, due to surging seasonal consumption around New Year and China's Lunar New Year.
In the first three quarters of 2016, consumption contributed more than 70 percent of overall economic growth. The number could be even higher when the fourth-quarter results come out, showing that consumption has become a major pillar of China's macro economic growth.
Consumption will become even more dominant in 2017, according to a research note from China Galaxy Securities.
"Companies with core business in ecosystem optimization, large-scale production, seeding, feeding and reproduction technologies, and animal nutrition are likely to thrive in the first quarter, and some can see year-long value growth amid nationwide supply-side reform in rural areas," said Zhou Ying, analyst with China Galaxy Securities.
For investors who would like to trade short-term and those with high risk-preference, shares of companies in the supply chain of precious metals are good choices, said analysts.
Gold miners, processors and retailers may benefit from two drivers-the seasonal sales peak for gold jewelry and a possible gold price surge when US dollar benchmark index corrects, said a BOC International Securities research note.