Bankers count on M&A, China to spur loan growth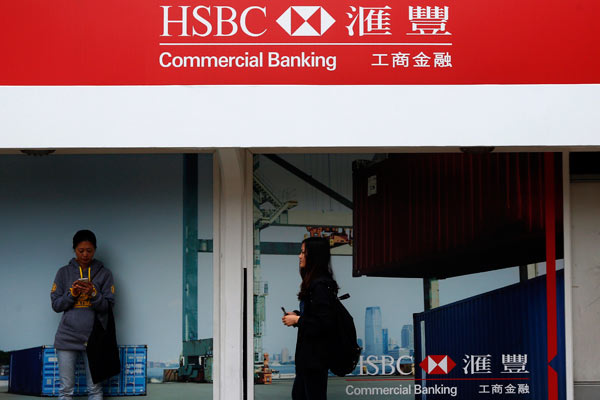 Passengers wait at a tram station outside HSBC headquarters in Hong Kong. [Photo/Agencies]
Concerns rise as investment plans stall amid slowdown, political uncertainties
Loan bankers in Asia are relying on companies' merger and acquisition activities and China's Belt and Road Initiative to fuel loan growth this year after volumes in the region stagnated in 2016.
Asia-Pacific ex-Japan loan volume amounts to $451.5 billion year to date, just shy of the $452.3 billion syndicated and clubbed deals completed in 2015, due to slower deal flow as some companies have suspended investment plans amid a global economic slowdown and political uncertainties brought on by elections in the US and Europe. The market was sustained by acquisition financing, which rose to $95.6 billion, more than double 2015's $46.6 billion.
Bankers in the region expect Chinese companies to stay hungry for overseas assets, because the restrictions are temporary and affect only foreign acquisitions of a certain value that fall outside a buyer's core business.
"Interventions on outbound M&As will come and go...," said Aziz Dean, Sydney-based head of loan markets of Westpac Banking Corp. "But overall, I think the demand will continue from Chinese companies to invest in good assets globally, especially in Asia."
China's Belt and Road Initiative is seen as another source of new borrowing after a slow year for project financing. The government is encouraging companies to do business and invest in infrastructure along the ancient Silk Road trading route that stretches from Asia to Europe which eurozone SLJ Capital Ltd estimates has an aggregate project size of $1.4 trillion.
"Infrastructure projects under the Belt and Road Initiative-a couple of them with financing needs of over $10 billion-would drive loan volume," said Eugene Lau, China Construction Bank (Asia) Corporation Ltd's Hong Kong-based deputy general manager and syndication head.
Project-finance volume this year is 17 percent behind 2015's full-year $114 billion, dented by a more than 60 percent decline in Australia and New Zealand volume. Deals in the pipeline include the Melbourne Metro Tunnel development of roughly A$6 billion ($4.34 billion) and a $7.2 billion financing backing Petronas' refinery and petrochemical project in Malaysia.
Project finance and capital expenditure deals in India rose to $3.68 billion this year, while event-driven financing, which includes M&A loans, climbed to a five-year high of $3.53 billion, as India's companies expand their global ambitions.
"We have seen a pickup in M&A activities in the European and US markets and I'd expect that to flow through to the Asian markets," said Andrew Ashman, head of loan syndicate Asia Pacific at Barclays Bank Plc in Singapore.
Global acquisition financing reached $919.1 billion so far in 2016, compared with 2015's $1 trillion.
Aside from corporate M&As, activity in private equity leveraged buyouts may also support the market with term loan B products, which traditionally target institutional investors. The so-called TLBs, popular in US and European leveraged finance markets, usually carry higher interest rates with only slight amortization throughout the loan tenor and a large balloon payment scheduled near maturity.
"In terms of leveraged finance, we have seen much stronger institutional lender appetite this year, particularly in Australia," said Ashman.
"I would expect that appetite to continue into next year, with growth coming from investors located in Singapore and Hong Kong," and Barclays is talking to sponsors about structuring TLB products into those markets next year, he said.
APAC loan volumes have stagnated since reaching a record high of $547.9 billion in 2014 as Chinese policy makers have put in place policies to steady the economy and control asset-price bubbles. Chinese borrowers accounted for 28.3 percent of loan volume in 2016, compared with 20.3 percent in 2015.
As well as project-finance loans, the Belt and Road Initiative will be able to bring other types of borrowings to the market, according to Phil Lipton, HSBC Holdings Plc's head of loan syndications for Asia-Pacific in Hong Kong.
He said: "There are not just project financing, but also lending opportunities to corporates and suppliers involved in those projects." he said.
Bloomberg