BEIJING - Beijing lifts its orange alert for heavy air pollution at 12 am Thursday as a strong cold front has arrived on Wednesday night and is expected to disperse the week-long smoggy weather.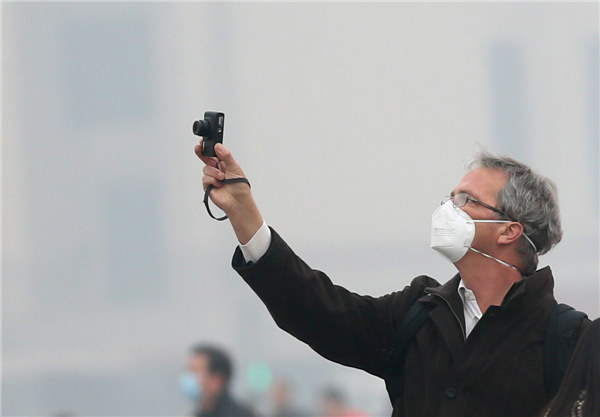 A visitor wearing a mask takes a picture at the Tian'anmen Square on a dazy day on Feb 25, 2014. [Photo by Zou Hong/Asianewsphoto]
"The cold front will bring an average precipitation of 1 to 2 millimeters first, and then strong winds, dispersing the heavy smog that has blanketed the capital for seven days," said Zhang Linna, chief weather forecaster at Beijing Meteorological Station.
Air quality is expected to be "fairly good", or level 2, on Thursday. The air quality index (AQI) at monitoring stations in downtown Beijing is expected to drop to between 51 and 100 from 300-plus.
As more cold fronts are forecasted, the possibility of further smog over the next seven days is slim, said Zhang.
The government issued a yellow alert for heavy air pollution on February 20. The alert was raised to orange on February 21.
It was the first orange alert since Beijing's municipal government put an emergency response system into effect in October.
AQI readings at downtown monitoring stations topped 300 micrograms per cubic meter as of 3 p.m. on Friday, more than 10 times the level considered safe by the World Health Organization.
News of the cold front was welcomed.
"Comrades, hold on for a few hours. Comrade Northwest Wind is rushing to town to help our fight against the smog. Hold on," bloggers Xing Hui and Hao Hao wrote on Twitter-like service Sina Weibo.
Beijing has a four-tier alert system. Blue, yellow, orange and red are used to indicate the air pollution level in order of increasing severity.
The city's authorities ordered 36 companies to halt operations and another 75 to reduce production as part of the response mechanism triggered by the orange alert, the second highest.